2015 Recap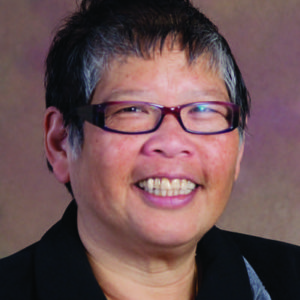 LASNNY Executive Director Lillian Moy recently recapped 2015's most exciting developments. First and foremost, she reports that LASNNY has been able to hire some great new attorneys. "It's terrific," Moy says. "They have a ton of new energy, but since they have less experience, we're trying to provide them with basic training." The new staff recently completed basic lawyering skills training and now LASNNY is putting together a new lawyer-training program to hone skills like motion practice and appellate writing. Moy explains, "In their first year or two this will provide basic knowledge, through a more practical lens than what law school provides." To coordinate this training, LASNNY recently named Victoria Esposito as its first Advocacy Coordinator. Before she joined LASNNY as a staff attorney in 2011, Esposito served as an Assistant District Attorney for St. Lawrence County and an instructor at SUNY-Canton. While there she developed SUNY-Canton's Legal Studies program, a four-year paralegal program, the first of its kind within the SUNY system.
Throughout the year, LASNNY remained committed to outreach and funding for the Solutions to End Homelessness Program (STEHP). This program benefits the entire service area, but its focus varies depending on location. In Albany, the program's attention is on rapid rehousing, while in rural areas, it shifts to prevention services. Moy says, "This program and its funding are a mainstay to meet clients needs."
One of the most exciting wins for LASNNY last year was receiving a grant renewal for the Domestic Violence Legal Assistance Program. The Office on Violence Against Women in the U.S. Department of Justice awards this grant and it's the third time LASNNY has received the funding. Moy says that it's a bit unusual to receive funding three times in a row and she wasn't sure how things would turn out. Whether it's a basic order of protection or a custody case, Moy says that this funding is used to provide a full range of civil remedies for victims of domestic violence. She says, "Access to civil legal services helps our client get out of bad situations. This renewed funding is great news for our clients and partners."
LASNNY uses the funding to help a wide range of domestic violence survivors, but recently, they've paid special attention to rural victims, victims of elder abuse, and the LGBT community. In particular, LASNNY has teamed up with In Our Own Voices, an LGBT advocacy organization for people of color. IOOV will train LASNNY and other domestic violence partners.
As 2015 came to a close, the civil legal services portion of the state budget was a bit uncertain due to the appointment of a new Chief Judge of the New York State Court of Appeals. Fortunately Chief Justice Janet DiFiore is very supportive of civil legal services and its allocation in the budget came through intact and was approved by the legislature. As this is a competitive bidding process, LASNNY is still waiting to hear how much of the $87 million dollar allocation it will receive.
While last year featured many new programs and faces, helping clients remains the number one priority for LASNNY. Moy says that above all, "We want to keep telling the story of our work so our clients experience the economic benefits and stability of our advocacy." Whether it's remaining in their homes or receiving public benefits, the funds that clients retain can then benefit our local communities, a win-win for everyone.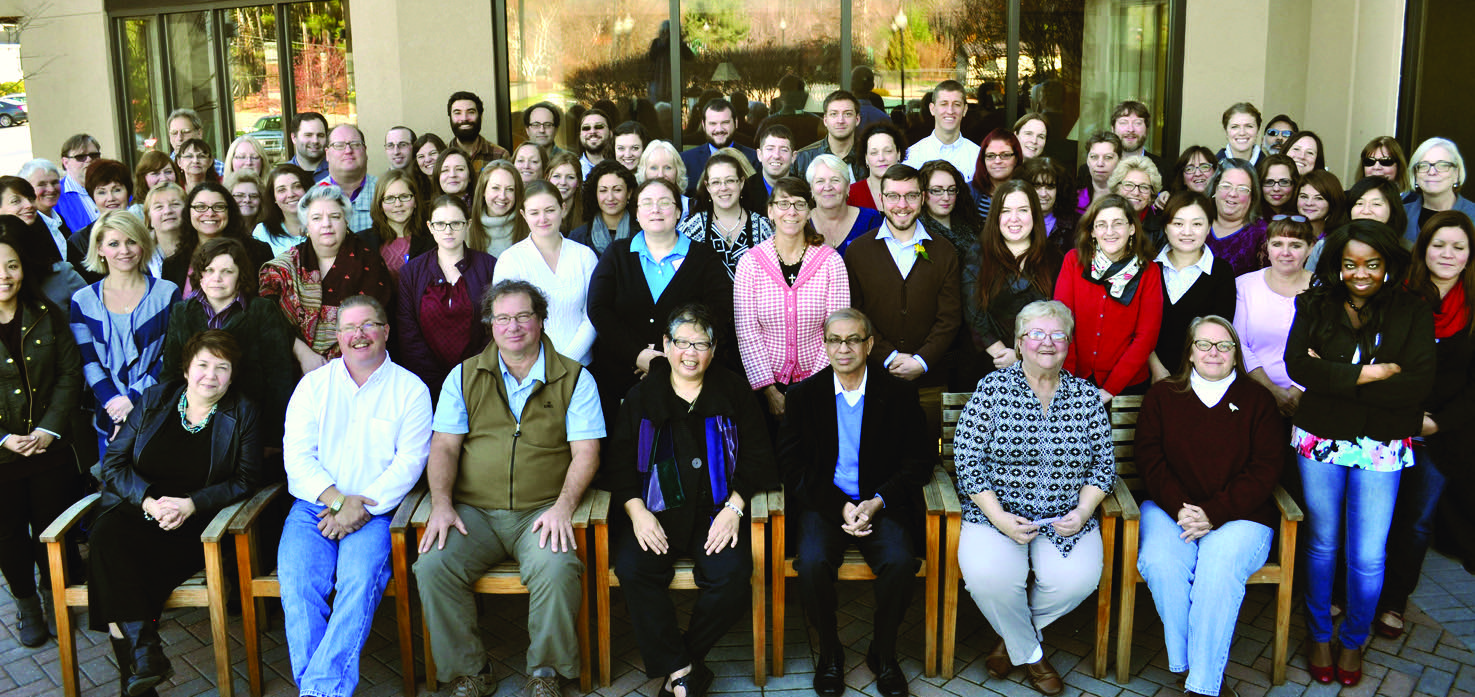 Types of cases handled by our staff and pro bono attorneys in 2015.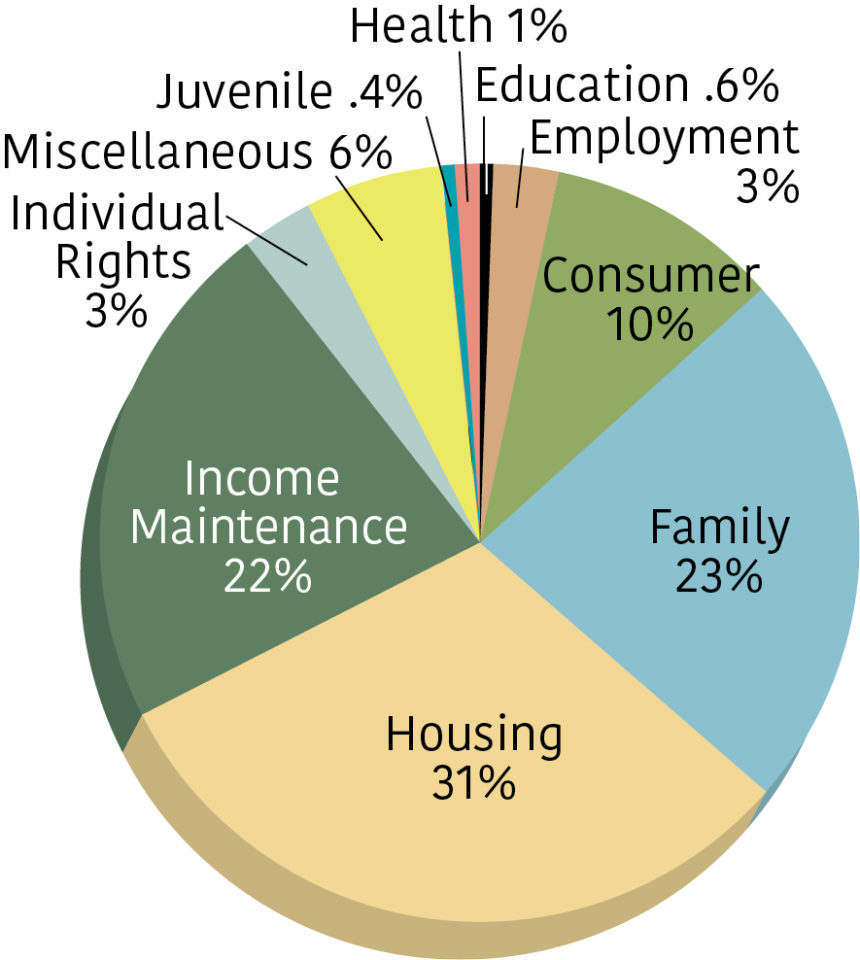 2015 PAI Attorneys
Private attorneys provide important civil legal services through LASNNY's PAI (Private Attorney Involvement) Program, which encourages and supports attorneys who offer pro bono services to needy people in Northeastern New York.
Support for PAI volunteer attorneys includes client and case screening, CLE credits, free training, secondary professional liability insurance and reimbursement for out-of-pocket expenses.
In 2015, we closed 379 pro bono cases through the Private Attorney Involvement Program.
Janet Axelrod
Paula Barbaruolo
Lawrence Becker
William Berglund
Donald W. Biggs
Joel Blau
Ira Bloom
Frank Brennan
Maryanne F. Bukolt-Ryder
Birdget Burke
David Burke
Christine Carsky
Peter Coffey
Nina Daratsos
Nancy Delain
Kevin Donovan
Joseph Dougherty
Christian Dribusch
Dennis Duggan
Alexander Dunshee
Jami Durante Rogowski
Marc S. Ehrlich
Byrgen Finkelman
James Gross
Charles Harding
Carl Hasselbarth
Albert Hessberg, III
Brian Hodgdon
Amanda Jackson
Daniel Kinlan
Jessica Klami
Michael Kogut
Mark Lansing
Lisa W. Lorman
Brittnay McMahon
Noel Mendez
Lisa Mills
Andrew Moses
Emily Muller
Charles Nash
Mireille Nitti
Michael O'Brien
Michael O'Connor
Cathleen O'Horo
Brendan O'Shea
Lynne Papazian
Daniel Pease
Joel Peller
Frank M. Pell
Paul Phinney
Jack Piller
Tara Anne Pleat
Emily Quinlan
Stephen Rockmacher
Stephen Rodriguez
Aubrey Roman
Robert Rosborough
Jena R. Rotheim
Thomas Ruane
Morgan Ruthman
Bethany Schumann-McGhee
Adriana Shako
Lauren Sharkey
Douglas Shartrand
Adam Shpeen
Margaret Surowka Rossi
Robert Terwilliger
Kevin Thiemann
Kevin Tollisen
Kathleen Toombs
Jessica Vinson
Claiborne Walthall
Jonathan Warner
Thomas A. Welsh
Joanne M. White
G. Kimball Williams
Albany & Rensselaer County Assigned Counsel Program
F. Stanton Ackerman
Robert L. Adams
Jennifer Albright
Michael D. Assaf
Chad Balzer
Diana Bangert-Drowns
Susan F. Bartkowski
Rebecca Bauscher
Ellen Bennett Becker
Ramona Breen
David Brickman
Murray Carr
J. Rochelle Cavanagh
Kevin Colwell
Mary T. Colwell
Amanda Connor
Daniel Cunningham
Kelly M. Curro
Justin DeArmas
Eleanor DeCoursey
Paul Devane
Heather Dukes
Dennis M. Englert
Shawn D. Flaherty
Mark Fleury
Joyce M. Galante
Karen M. Gazda
Eric Gee
David Goldin
David Gruenberg
Mark Grunblatt
Trevor Hannigan
Michelle Haskin
Lauren Hunt
Chad Jerome
David Kavanaugh
Randall E. Kehoe
Andrea Kelsey
Barbara J. King
Frederick Korkosz
Suzanne Latimer
Gerald Leary
Joseph B. Liccardi
Barrett D. Mack
Jean M. Mahserjian
Matthew Mann
David Marinucci
Kenneth McGuire
Stephen Molinsek
Roberty Molloy
Joanne Monagan
Asa Neff
Stephen C. Prudente
Robert Randall
Nicole Redmond
Karen Rhoades
Peter J. Scagnelli
Jo Ann Shartrand
Rebecca Simser
Wayne Smith, Jr.
Thomas A. Snyder
Justine L. Spada
Carol Stiglmeier
Margaret C. Tabak
James Towne, Jr.
Megan Van Aken
Jeffrey Zimring
(headline)
2015 Individual Donors
$1,000-$5,000
Anonymous*
Mathew P. Barry
Estate of Richard J. Bartlett
Ira M. Bloom
M. Cornelia Cahill
John R. Casey
Eleanor M. DeCoursey
Kevin P. Glasheen
Carol A. Hyde
E. Stewart Jones Jr.
Amelia M. Klein
Anne Marie Malak
Lillian M. Moy
Thomas J. O'Connor
Susan Phillips Read
Arthur J. Siegel
Richard E. Sise
Harry D. Snyder
James T. Towne Jr.
Edward J. Trombly
Jenifer M. Wharton
$500-$999
James B. Ayers
Jeffrey S. Baker
Frank Bifera
Glen T. Bruening
John Christian
Sanjeeve K. DeSoyza
Dawnald R. Henderson
Mark D. Lansing
Tara L. Moffett
Tolga J. Morawski
William Myers
George Pond
Christian J. Soller
Bruce J. Wagner
William and Amy Yates
$300-$499
Jeffrey K. Anderson
Stephen Baker
David A. Bruso
Veronica B. Cano*
Jondavid Delong
Alan S. Kaufman
Robert W. Redmond
Patricia Rodriguez
James R. Sandner
Peter H. Schiff
James & Robin Sevinsky
Richard L. Weisz
G. Kimball Williams
$200-$299
Richard F. Anderson, Jr.
Susan E. Beaudoin
George Ceresia
Thomas P. Connolly
Garrett DeGraff
James E. Doern
Dennis A. First
Michael Foster
Deanne L. Grimaldi
Howard A. Jack
Thomas K. Keefe
Donald T. Kinsella
Erin Koenen
Richard Kruger
Guido A. Loyola
Mark J. McCarthy
Timothy P. Morrison
Cornelius D. Murray
William S. Nolan
Alicia Ouellette
Paul E. Pontiff
Alexander Powhida
Vincent J. Reilly*
Mark T. Roberts*
Jane E. Scott*
Kathleen A. Selover
John L. Sitterly*
Mark R. Sonders
Edward O. Spain
Judith C. Tate
Joseph C. Teresi
Wendy L. Wahlberg
John J. Warner
Mary M. Withington
Melissa M. Zambri
$100-$199
Janet R. Axelrod
Anthony Bernini
Bruce B. Blackwell
Kristina A. Burns
Robert Callahan
Cathleen S. Cenci*
Nancy Chu
Robert G. Conway Jr.
Ghabriela A. Donnelly
Stephen J. Easter
Elizabeth A. Garry
Thomas F. Gleason
Margaret M. Gonsowski*
Victoria A. Graffeo
Karen A. Halaco
Sheila R. Hand
Lori Hershenhart
M. Mark Jacquinot*
Edward Lindner*
Brian Lusignan*
Kevin Maney
Paul H. Mason*
David A. Munro
David A. Munro
Rika Murray
Troy Oechsner
Malcolm B. O'Hara
Roberta Reid*
Sandra D. Rivera
Joan B. Rogers
Mary Ryan
Brian Saboda
Robert Salkin*
Robert G. Sliwinski*
Leslie E. Stein
Henda S. Strasser
John D. Sullivan
Stephanie A. White
Richard R. Wissler
Under $99
James K. Albrecht
Florence E. Amsler
Anne M. Bielawa
Richard A. Boyer
Dorothy Britton
Eva E. Brown
Michael A. Buonora
Carolyn S. Carlson-Marion
Marion Cino
John G. Collins
Richard H. Coppola
Adelina G. Cosico
Anna L. Cox
Marie A. Dalton
John DeLong
Bonnie A. Devine*
George E. Dutcher
Desiree Ferguson*
Helena G. Franciola
Helen Gamelin
Joan E. Gilkes
Daniel Gonsiewski
Noreen DeWire Grimmick
Paul Joseph Herrmann
Sera Hotaling
Emma Jenkins
Mary E. Jones
Jeanne Kakely
JoAnn Kapusta
Donna Kerwin
Kathleen M. Labelle
Ann C. Lapinski*
Farnham A. Langell
Joyce L. Lemmon
Donald Letzelter
Michael Levitz*
Joan Mathews
Shyam S. Mohanka
Charles Noonan
John J. Oates
Andrew Oritis
Richard Pine
Judith A. Pomakoy
Steven Rodway
Beatrice R. Rucinski
Barbara Saunders
Sara C. Schellinger
Michael L. Scher
Jane E. Scott
Cynthia Scott
Amauris R. Soler
Susan E. Spang
Patricia Steadman
Barbara K. Thomas
Margaret E. Torok
Mary L. Tuck
Joan T. Uvyn
Sharon M. Vincent
Patricia E. Watkins
Norman E. Whitaker
Frederick M. Zimmer
Memorial Gifts
Nancy Chu In honor of Alice Young
Lori Hershenhart In honor of Amanda K. Hiller
Tara Moffett In honor of Daniel Moffett
Tara Moffett In honor of The LASNNY Staff
Lillian M. Moy In honor of Alice Young
Troy Oechsner In honor of Larry Mullen
James and Robin Sevinsky In honor of Christine Sevinsky
Bruce J. Wagner In honor of Lillian M. Moy
2015 Law Firm Donors
2015 Campaign Co-Chairs: E. Stewart Jones Jr. and Thomas J. O'Connor
Platinum
$499 and up per attorney
Anderson, Moschetti & Taffany, PLLC
E. Stewart Jones Hacker Murphy
Jonathan P. Harvey Law Firm
LaBatt, LLC
Law Offices of Mark S. Mishler
Law Offices of Ronald J. Kim
Martin Harding & Mazzotti
Melody A. Mackenzie, PLLC
The Spada Law Firm
Gold
$325–$498 per attorney
Bendall & Mednick
Boies Schiller & Flexner
Brian F. Mumford, PLLC
Buckley, Mendleson, Criscione & Quinn
Dreyer Boyajian
Englert, Coffey, McHugh & Fantauzzi
Girvin & Ferlazzo
Hinckley, Allen & Snyder LLP
Hinman Straub
Law Office of Patricia L.R. Rodriguez
Law Offices of Geri Pomerantz
Lombardi, Walsh, Davenport & Amodeo, PC
Maxwell & Van Ryn
McNamee, Lochner, Titus & Williams
O'Connell & Aronowitz
Whiteman Osterman & Hanna
Wilson, Elser, Moskowitz, Edelman & Dicker
Young, Sommer, Ward, Ritzenberg, Baker & Moore
Silver
$225–$324 per attorney
Barclay Damon
Bartlett, Pontiff, Stewart & Rhodes PC
Bond Schoeneck & King
Bowitch & Coffey, LLC
Cannon, Heyman & Weiss
Carter, Conboy, Case, Blackmore, Maloney & Laird
Couch White
Friedman, Hirschen & Miller
Ganz, Wolkenbreit & Siegfeld
Gordon, Tepper & DeCoursey
Heslin Rothenberg Farley and Mesiti
Hodgson Russ
Iseman, Cunningham, Riester & Hyde
Joy M. Smith, Attorney at Law
Lavelle & Finn
Law Offices of Alexander Powhida
Law Offices of Stephen Johnston
Marinstein & Marinstein
Maynard, O'Connor, Smith & Catalinotto
McCarthy Law
Nixon Peabody
Phillips Lytle, LLP
Reed & Vella
Rosenblum, Ronan, Kessler & Sarachan
Schneider & Palcsik
Stanclift, Ludemann & McMorris
Thuillez, Ford, Gold, Butler & Young
Supporters
Up to $225 per attorney
Manatt Phelps & Phillips
Walsh & Hacker
Corporate & Associations
ABS Solutions
Albany County Bar Association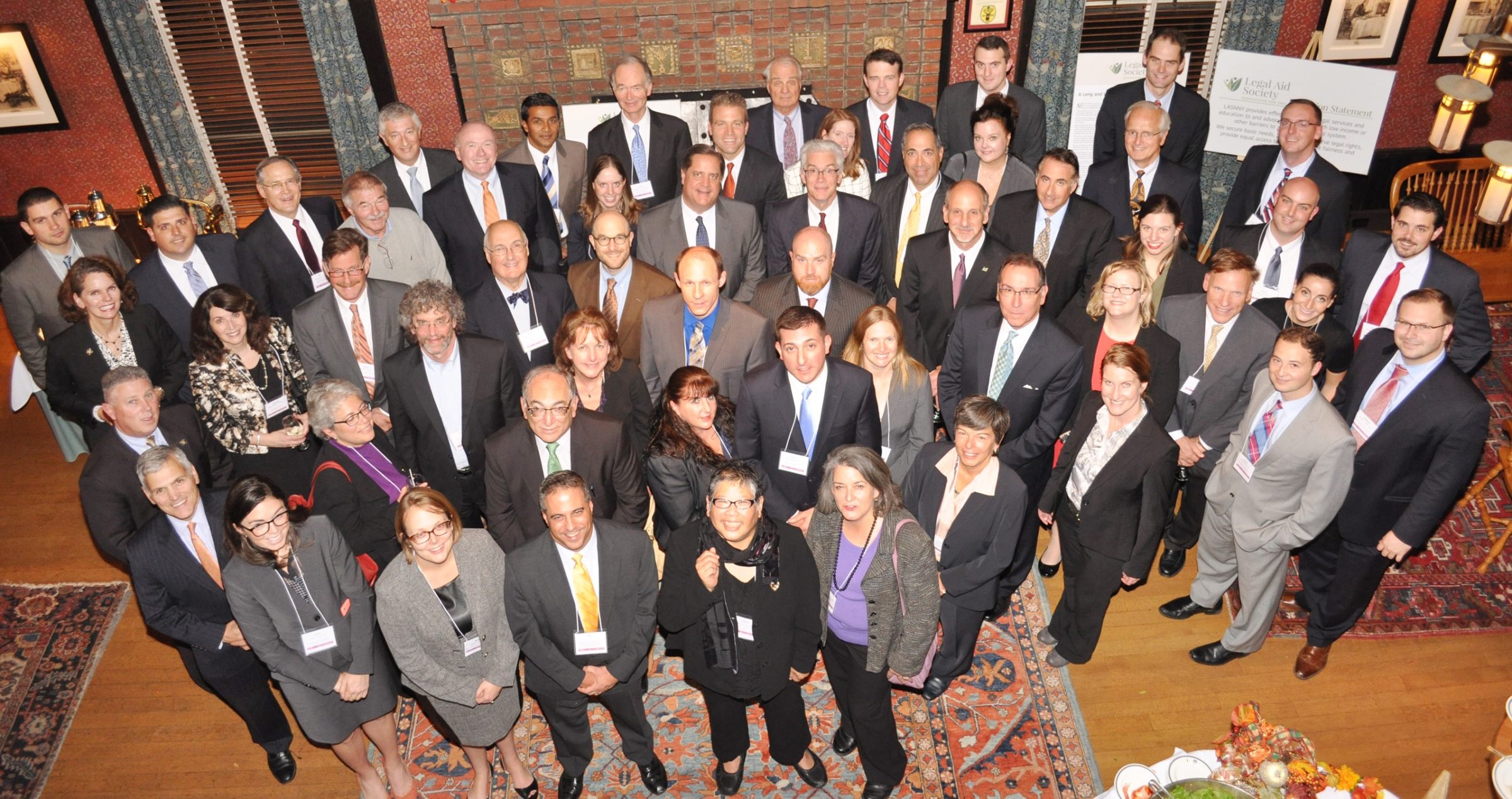 2015 Revenue and Expenses
Revenue
State Grants…………………………………….. $1,701,428.90
County/ City Grants…………………………. $384,023.25
Other Grants…………………………………… $297,235.49
Miscellaneous Income……………………… $93,159.63
Private Contributions………………………..$275,344.06
Legal Services Corporation………………. $1,295,643.00
Other Federal Grants………………………..$200,164.43
Interest on Lawyer Accounts……………..$989,375.00
Judiciary Civil Legal Services…………….$3,107,882.00
Total……………………………………………….$8,344,255.76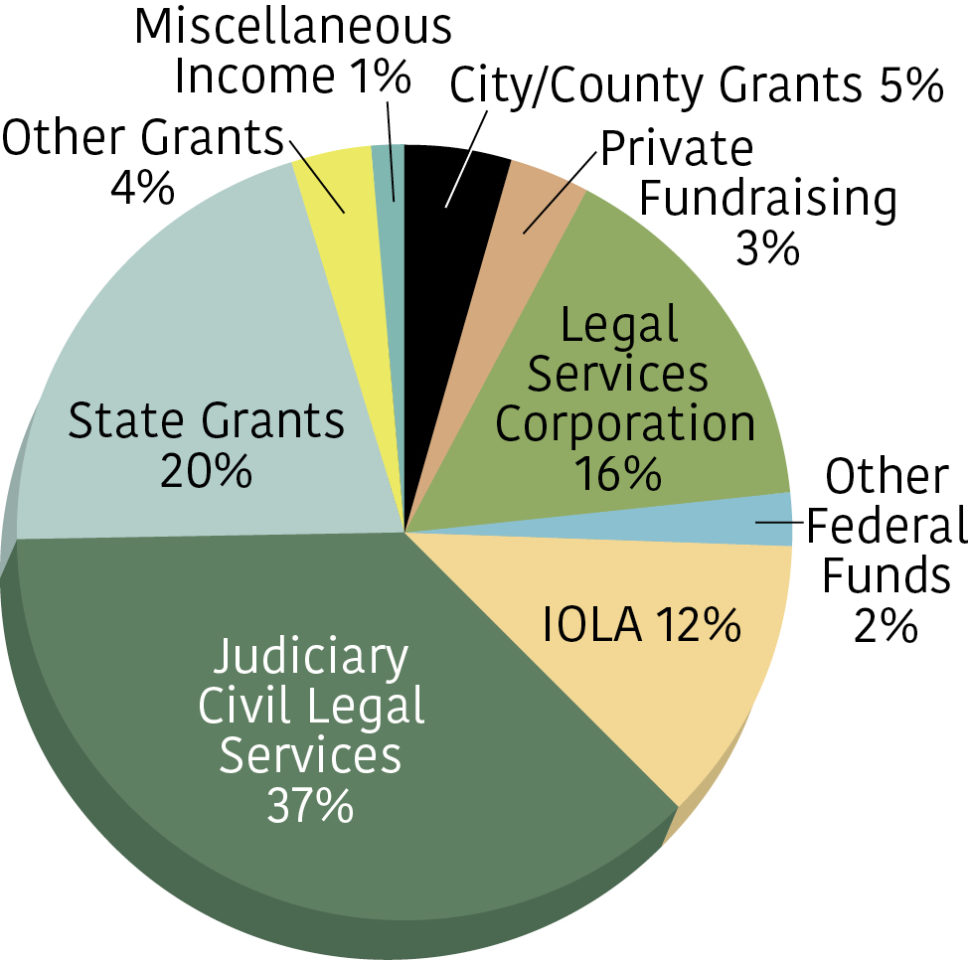 Expenses
Personnel:
Lawyers………………………………………….. $3,351,983.37
Non-Lawyers………………………………….. $1,519,677.03
Fringe Benefits……………………………….. $1,839,600.14
Operating:
Space & Utilities……………………………….$160,234.61
Office & Related Expenses…………………$273,312.98
Contract Services………………………………$416,282.04
Library…………………………………………….$90,965.53
Client Litigation Expense…………………..$17,625.02
Travel & Training………………………………$226,048.52
Miscellaneous……………………………………$253,911.08
Subtotal…………………………………………….$8,149,640.32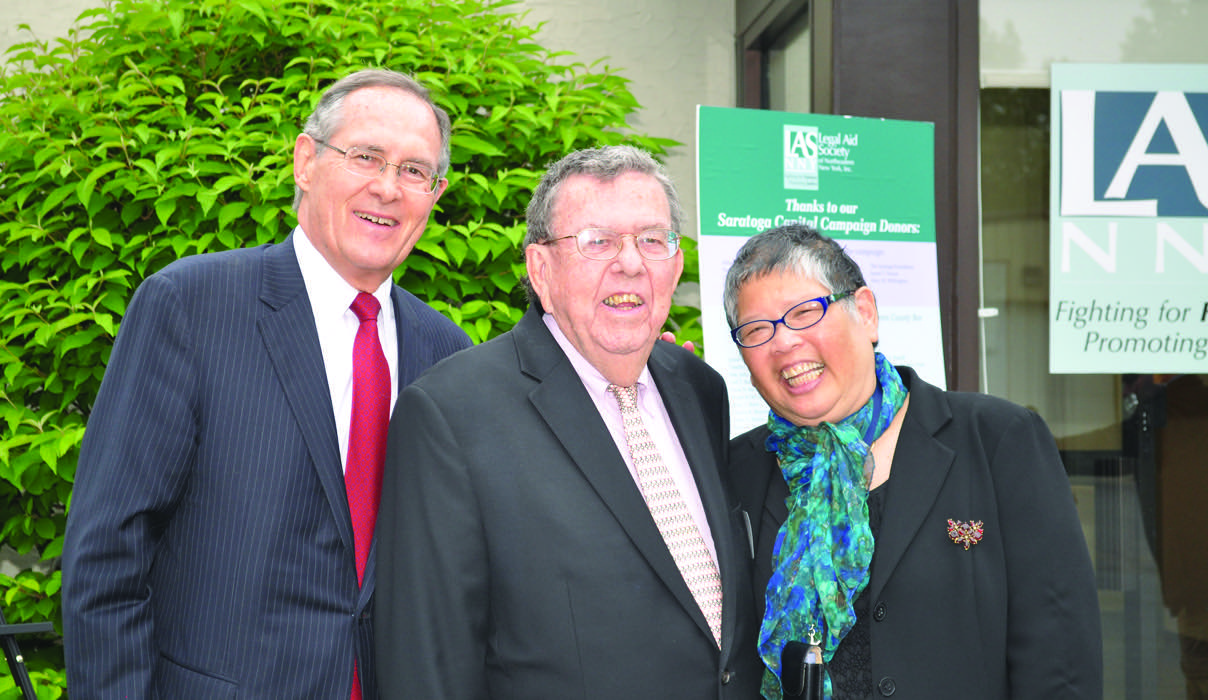 2015 Funding Sources
General Legal Services
Legal Services Corporation…………………..$1,235,643.00
Interest on Lawyer Accounts………………. $989,375.00
Fund Raising & Contributions………………$275,344.06
Judiciary Civil Legal Services………………..$3,107,882.00
Interest Income…………………………………..$4,582.14
Miscellaneous Income………………………….$88,577.49
Tax Clinic Legal Services
IRS/ Low Income Taxpayer Clinic (LITC)
$90,000.00
Children's Law Project
Division of Criminal Justice Services………………….$49,663.00
Disability Advocacy…
Disability Advocacy Project………………………………$597,540.98
Domestic Violence Legal Assistance
Domestic Violence Legal Assistance Project
U.S. Department of Justice……………………………… $83,471.43
DV Legislative Grant………………………………………..$54,594.00
DV Legislative Grant (Farley Member Item)……….$35,811.00
STOP Domestic Violence
Division of Criminal Justice Services…………………$97,689.76
Family Court
Warren County………………………………………………. $133,985.00
HIV/AIDS Legal Consortium
Albany Law School/ AIDS Program…………………..$81,421.44
Housing
Foreclosure Prevention Project
AG Home Owners Protection Program (HOPP)…………………….$390,380.22
Homelessness Prevention Project
Housing and Urban Development /LASH Schenectady………… $26,693.00
Solutions to End Homelessness Program (STEHP)
NYS OTDA (STEHP)………………………………………………………… $156,674.94
Albany County DSS (STEHP)……………………………………………. $95,267.25
SCAP/Schenectady County (STEHP)…………………………………..$95,302.47
ETC/Clinton County (STEHP)……………………………………………$6,248.31
Unity House (STEHP)……………………………………………………….$16,192.51
St. Paul (STEHP)………………………………………………………………$596.04
ESG Albany County…………………………………………………………..$8,364.79
ESG Schenectady County…………………………………………………..$38,318.76
ESG Troy/Joseph's House…………………………………………………$25,151.43
City of Troy ESG……………………………………………………………….$1,337.74
Saratoga Springs Community Development Block Grant………$7,973.50
Nutrition Outreach and Education Project
Nutrition Consortium………………….$319,075.00
Senior Legal Services
Albany County Department for Aging……………………………………..$40,000.00
Fulton County Office for Aging……………………………………………….$5,000.00
Washington County Office for the Aging………………………………….$12,000.00
St Regis Mohawk Indian Office for Aging…………………………………$6,281.21
St. Lawrence County Office for Aging………………………………………$10,000.00
Rensselaer County Department of Aging………………………………….$10,000.00
Clinton County Office of Aging………………………………………………..$15,495.00
Other Programs
United Way Community Investment……………………………………..$30,000.00
LSC/Pro Bono Innovation Fund……………………………………………$60,000.00
Legal Assistance of Western NY/PBIF…………………………………..$8,596.00
Upstate NY Immigration Law Project/NYBF…………………………..$14,400.00
ICAN/SAIL…………………………………………………………………………..$19,327.29
Legal Aid Society's Endowment Fund
Legal Aid Society's Endowment Fund
Anonymous (2)
Jeffrey and Martha Baker
Richard J. Bartlett
Charlotte S. Buchanan
David and Kathleen Burke
Paul M. Callahan
Peter and Mary Coffey
John R. Dunne
Deanne L. Grimaldi
Richard C. Heffern
E. Stewart and Kimberly Jones, Jr.
Thomas V. Kenney Jr.
Amelia M. Klein
Skip and Merri P. Meislahn
Tim and Carmelina Morrison
Lillian M. Moy
Miriam M. Netter
Thomas J. O'Connor
Leslie Thiele and Ken Larsen
Deborah Reynolds and
C. Kautzman
The Ruthman Family
Arthur and Ronnie Siegel
Keith C. St. John
Henda and Samuel Strasser
Wendy L. Wahlberg
G. Kimball Williams & Margaret. J. Gillis
Mary Withington
BECOME A SUSTAINER
Click here to make a monthly donation.
How Can You Support LASNNY?
Tell your legislators that you support funding for legal services
Provide pro bono legal services through our Private Attorney Involvement Program (PAI)
Support our Annual Justice for All Campaign at the leadership level
Become a Guardian of Justice. Make a gift to the LASNNY Endowment Fund