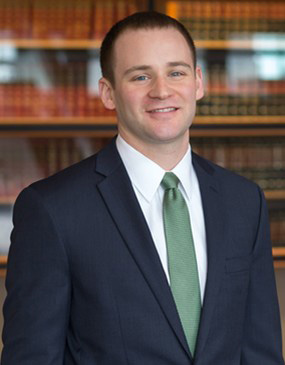 February 8, 2018
This article was originally published in the 2018 Winter Issue of the New York State Bar Association Pro Bono News
Do you know a holiday pro bono attorney? While some of us travel for the holidays, take time off to enjoy the company of loved ones and/or tie up end-of-the year knots with work. Some are staying committed to the spirit of service and spreading cheer to homes through pro bono service. At Legal Aid, we always hope the holiday season brings out the giving spirit in others. Jon Crain of Whiteman, Osterman and Hanna LLP, was in the giving spirit this holiday season.
There are many individuals who are evicted from their homes due to not having the benefit of counsel. In many cases, tenants need an attorney to assist with negotiating reasonable settlements that will allow them to stay in their home. Twice a month, pro bono attorneys appear in Albany City Court to assist tenants facing
eviction through Legal Aid Society of Northeastern New York's Attorney for the Day program. Pro bono attorneys appear in court without knowing how many tenants they will be representing or who they are. Attorney for the Day involves the collaboration of pro bono attorneys and Albany Law School students to prevent homelessness by helping low-income households facing evictions. In conjunction with LASNNY's Private Attorney Involvement (PAI) paralegal, Albany Law students assist with interviewing tenants, information gathering and issue spotting, while private attorneys like Mr. Crain spearhead oversight and mentoring, representing the tenant in their first appearance in housing court.
Just a few weeks before Christmas, Jon Crain represented a tenant with a disabled son who appeared in housing court. The tenant, who previously was out of work due to medical issues, fell behind on the rent and received a notice that meant packing up the family before the holidays. This tenant stressed the importance of having a place to live, immediately returning to work full-time after recovery, while additionally, babysitting evenings to save up the money needed to pay the rent arrears.
Like many New York renters, low-income households spend a significant portion of their income on housing. According to the U.S. Census Bureau's American Community Survey, among "extremely low income" New Yorkers, 70 percent are spending more than half their income on rent. Given the current healthcare crisis, when low-income households encounter a medical emergency, they lose the support needed to sustain their housing. As a result, many low-income New Yorkers find themselves facing eviction from their homes. Not to mention, increases in heating costs leaving families in a financial crisis during the holiday season.
This holiday pro bono attorney negotiated an agreement that kept the tenant and son in their home. The tenant exclaimed, "I didn't know whether I should put a tree up or not. A roof over our heads is more important than presents under a tree." Jon Crain is no stranger to litigation, practicing in Whiteman, Osterman and Hanna's Litigation, Arbitration and Mediation Practice Group, he attains a wealth of experience resolving disputes. Mr. Crain joined Whiteman Osterman & Hanna LLP in September 2013. Prior to joining the firm, Mr. Crain served as an Appellate Court Attorney for the New York State Supreme Court Appellate Division, Third Department. Crain has been volunteering for Legal Aid Society for Northeastern New York for 4 years. We are lucky to have such dedicated pro bono attorneys throughout the New Year.