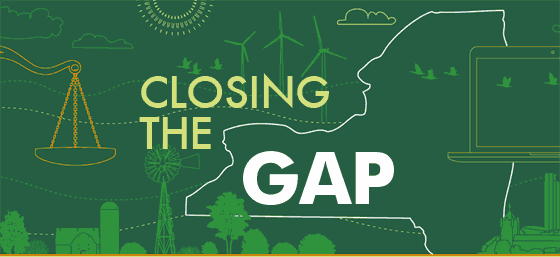 Closing the Gap's goal is to connect rural low-income housing and consumer clients to a volunteer remotely. The volunteer, any attorney licensed to practice in the State of New York, can provide limited scope representation by using innovative technology by accessing the Closing the Gap website. Rural low-income tenants and consumers in northeastern New York are otherwise provided with advice-only due to the lack of Legal Aid Society resources. Closing the Gap provides pro se litigants with a resource when appearing in court and responding to their civil matters. The participation of volunteers by accessing Closing the Gap to review/share documents, chat with the client and schedule interactive video consultations or phone conferences has successfully provided pro se litigants with a fighting chance in town, city, county and supreme courts. Volunteers can provide brief service from their home, office, or any LASNNY remote location. please contact Mallory Gibson, Esq., PAI Director: 518-462-6765 x432 or [email protected] if you or your firm are interested in joining Closing the Gap in ensuring equal access to justice for all.
Article: Troubleshooting Pro Bono Relationships with Low-Income Clients
Closing the Gap article in the NYSBA Pro Bono Newsletter 
Closing The Gap Training Videos
This program will help close the gap in the delivery of legal services to impoverished areas in rural upstate New York by linking urban volunteers with rural clients who are traditionally underserved due to geographic limitations. This program combines video consultations with document assembly capability to support remote document review and generation of pro se pleadings in housing and consumer cases.
Using the online interface