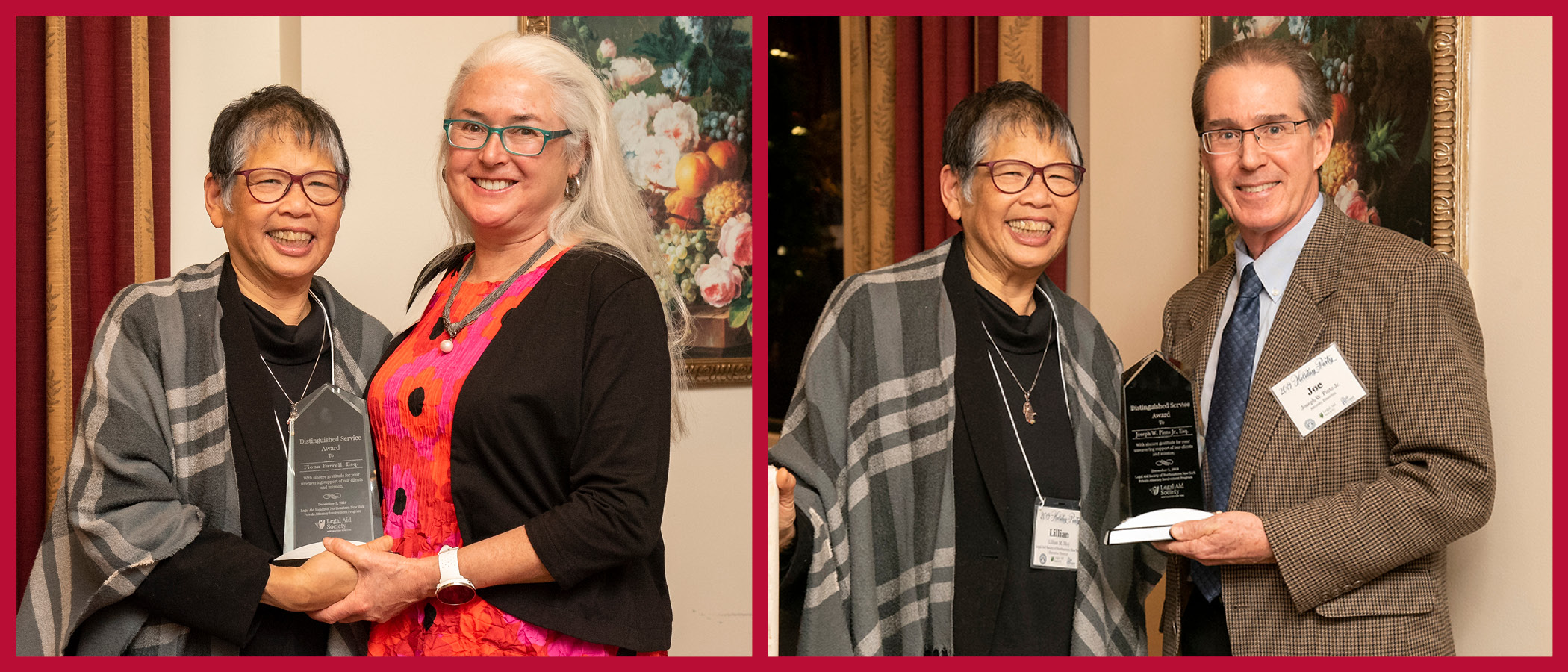 December 11, 2019
LASNNY awarded the 2019 PAI Distinguished Service at the annual Holiday party on December 5, 2019 at Wolfert's Roost Country Club.
Fiona Farrell, Esq. has been a mainstay of the Glens Falls Attorney for the Day program, helping seventeen clients in 2019 avoid money judgments, get time to find new housing, or avoid eviction altogether. Without her help, these tenants would have had to represent themselves in housing court; they could have been evicted in as little as 72 hours or owed large sums of money to their landlords.
Fiona's work is particularly important in this rural area where low-income people have difficulty finding housing as well as lawyers. She has also helped other attorneys help our clients by sharing her documents, letting them shadow her in court, and being available as a resource.
Sarah Buckowski, one of our PAI coordinators, says, "Fiona has been a much needed addition to our volunteer panel for PAI…Her positive attitude and contagious energy is of great benefit to us, as she has even extended her volunteering to the Closing the Gap program and the Attorney for the Day program in Albany."
Thank you, Fiona, for your tireless efforts!
Joseph W. Pinto Jr., Esq. enrolled in the NY State Bar's Attorney Emeritus program after his retirement in 2016 and started volunteering with the LASNNY PAI program to help with our Low Income Tax Clinic (LITC). His experience working for New York State as a Senior attorney trying civil cases for the Department of Tax and Finance and then as a Tax Judge for the next 30 years, with six of those years serving as a Commissioner of the New York State Tax Appeals Tribunal is invaluable to our clients and to other attorneys working in the program.
Joe continues to take cases from LITC but has also become one of our valued utility players. He is one of our go-to volunteers for our pro se divorce clinics, where volunteer attorneys help clients fill out their own divorce papers and explain how to file them. In 2019 he has helped thirty-three clients with their divorces, and he estimates that he has worked with a total of fifty to sixty clients during his time with LASNNY.
Joe's generosity with his time and expertise has allowed these clients to move forward with their lives much more quickly and easily than they otherwise would have, and we are deeply appreciative of his work.
PAI Coordinator Ryland Wiseman, who works closely with Joe on the pro se divorce clinics, says, He works in more parts of our service area than most of our volunteers, and he has traveled as far as Plattsburgh when we needed someone to run the clinic there. He is really knowledgeable, takes time to answer clients' questions, and gets along with clients from every walk of life…like a great person should."
Thank you for your service, Joe!