Pro Bono Week: Free CLE: Landlord/Tenant Law During COVID-19
October 15 @ 1:00 pm

-

5:00 pm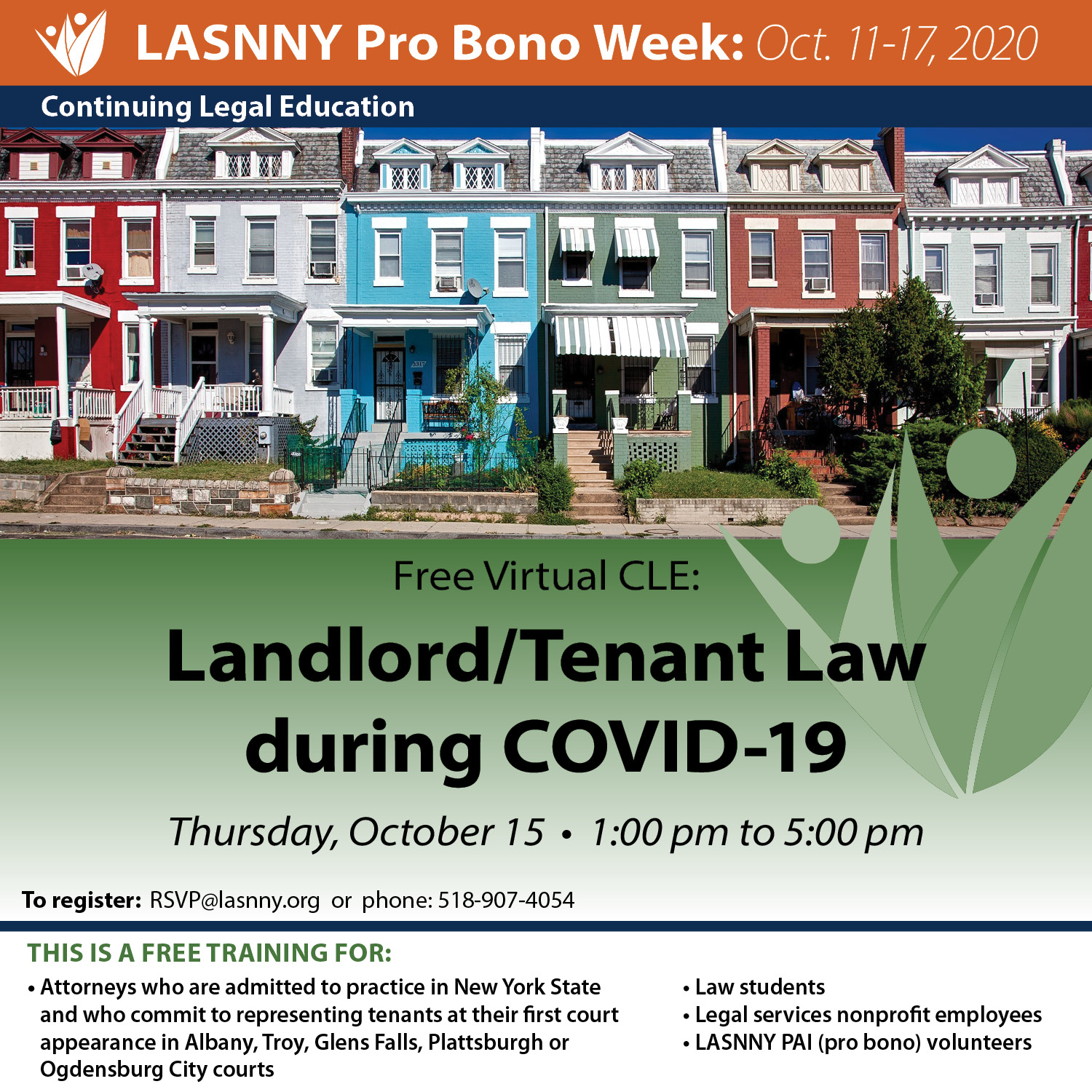 LASNNY Pro Bono Week: October 11-17, 2020
Free Virtual CLE: Landlord/Tenant Law During COVID-19
Thursday, October 15 – 1:00 pm to 5:00 pm
To register: [email protected] or 518-907-4054
Topics:
– New York State Landlord/Tenant Law
– Sources of law: CARES Act, Executive Orders, and Administrative Orders
– Defenses to Evictions, Including COVID-19 Specific Defenses
– Limited Representation Ethics Rules
– Views from the Bench
– A Practical View: Attorney for the Day Program
Panelists:
Hon. A. Michael Gebo
Robert Romaker, Esq.
Tara Glynn, Esq.
Fiona Farrell, Esq.
Location:
Zoom online webinar – a link will be sent via email after registration
Program:
Thursday, October 15th – 1:00 pm to 5:00 pm
CLE Credits:
2.0 hours of Skills
1.0 hours of Professional Practice
0.5 hours of Ethics
This course is appropriate for both newly admitted and experienced attorneys.
THIS IS A FREE TRAINING FOR:
– Attorneys who are admitted to practice in New York State and who commit to representing tenants at their first court appearance on two (2) dates in either Albany, Troy, Glens Falls, Plattsburgh or Ogdensburg City courts
– Law Students
– Legal services nonprofit employees
– LASNNY PAI (Pro Bono) Volunteers
Attorney for the Day is an in-person pro bono program operated in Albany, Troy, Glens Falls, Plattsburgh, & Ogdensburg City courts providing representation to eligible tenants facing eviction in both public housing and private landlord/tenant proceedings.
We are seeking volunteers to appear on designated dates to be determined when the housing courts re-open. Please contact Melody Harkness at [email protected] for more information or to volunteer.
To register: [email protected] or 518-907-4054
Financial hardship scholarships are available; contact Melody Harkness at [email protected]
For questions regarding accessibility or accommodations, please contact Melody Harkness at [email protected] or 518-907-4054
For more information about volunteering with the LASNNY PAI Program, please go to www.lasnny.org/volunteer