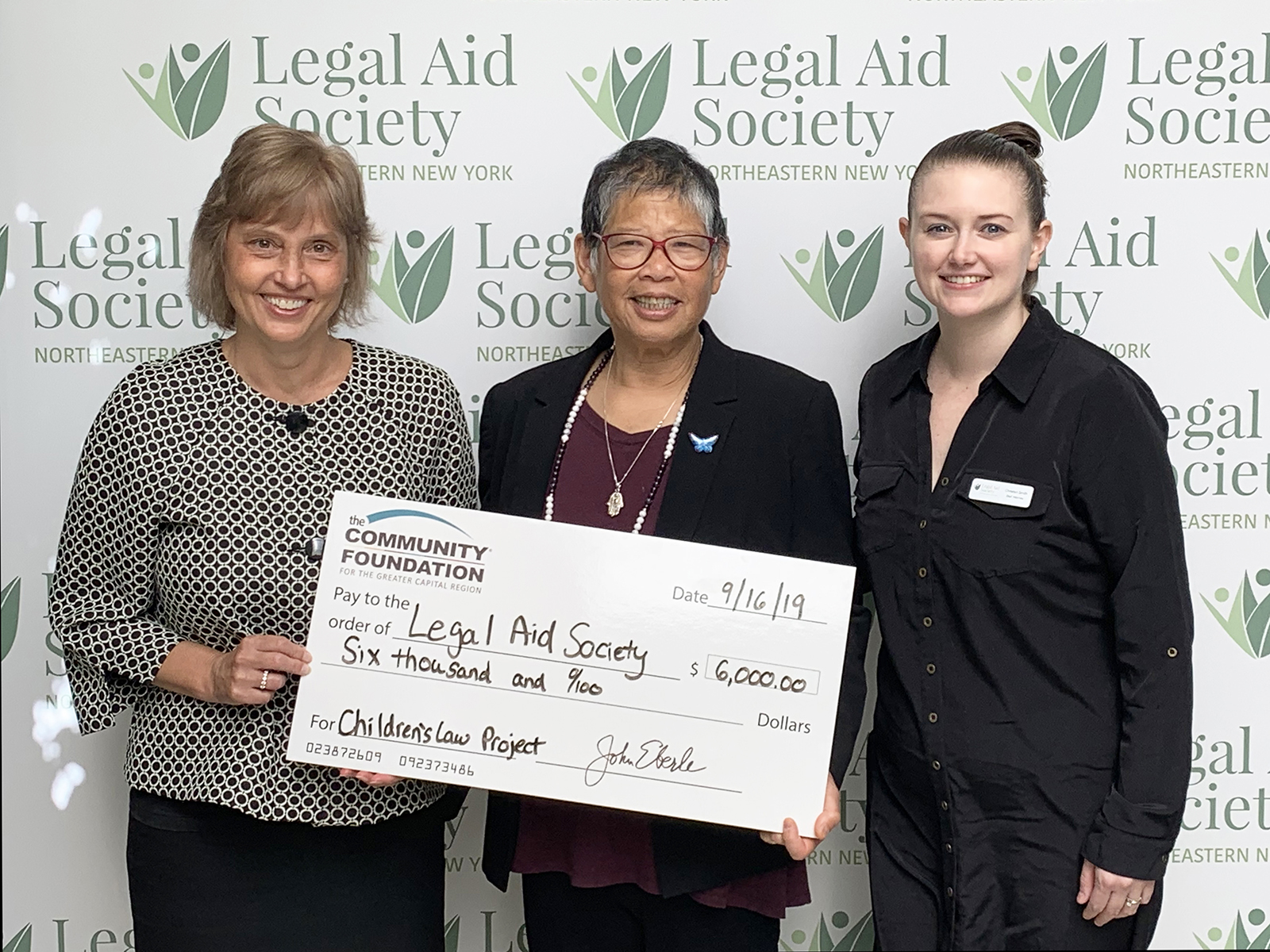 October 18, 2019
The Legal Aid Society of Northeastern New York (LASNNY) was honored to be awarded the Community Foundation of the Greater Capital Region Impact Grant in support of our Children's Law Project.
The Children's Law Project (CLP) provides legal advice and assistance for low-income children and youth with disabilities. CLP focuses on protecting the rights of students with disabilities in special education and school discipline matters.
"Legal Aid and the Children's Law Project are here to help children thrive and develop to their full potential," says Christen Smith LASNNY Staff Attorney. "Education is a major social determinant of health and ensuring access to education and protecting the educational rights of children with disabilities not only positively impacts the individual child, but also members of their family and their community."
Through the Children's Law Project, LASNNY successfully advocated for a local middle school student to receive an education alongside her peers. After being moved to a special school attended only by students with disabilities, this student regressed both socially and academically. She desperately wanted to return to her home school and to interact with children both with and without disabilities, but her school district refused. We represented her at meeting with the school district and successfully advocated for a change in her classroom placement and changes to her IEP. She was moved back into an in-district classroom and is thriving with the right accommodations and supports. In 2018 LASNNY closed over 40 cases in the areas covered by CLP, which include school disciplinary concerns, special education/learning disabilities, and access to education (including bilingual and testing), impacting over 150 individuals, just like this local student.
"The assistance and advocacy provided everyday at the Legal Aid Society helps residents of Northeastern New York of all backgrounds, including those who face the toughest legal challenges; children, veterans, seniors, people living with disabilities, and victims of domestic violence," says LASNNY Executive Director Lillian M. Moy. "We are grateful that the Community Foundation is here to help our community, and for the vital funding they provided to our Children's Law Project with the award of this Impact Grant in September."
"The Community Foundation is thrilled to support the Legal Aid Society of Northeastern New York's Children's Law Project," says Shelly Connolly, Vice President of Community Grantmaking at the Community Foundation for the Greater Capital Region. "In 2019, The Foundation awarded $256,731 in Community Impact Grants to address the community's most pressing needs. Legal Aid Society was one of 39 organizations throughout the Greater Capital Region to receive a Community Impact Grant this year."
LASNNY and the Children's Law Project also provides educational trainings and has materials available for everyone to learn more about ensuring a free and appropriate public education for all children, as well as on other issues affecting children. To learn more please log onto our website at www.lasnny.org or call us at (800) 462-2922.