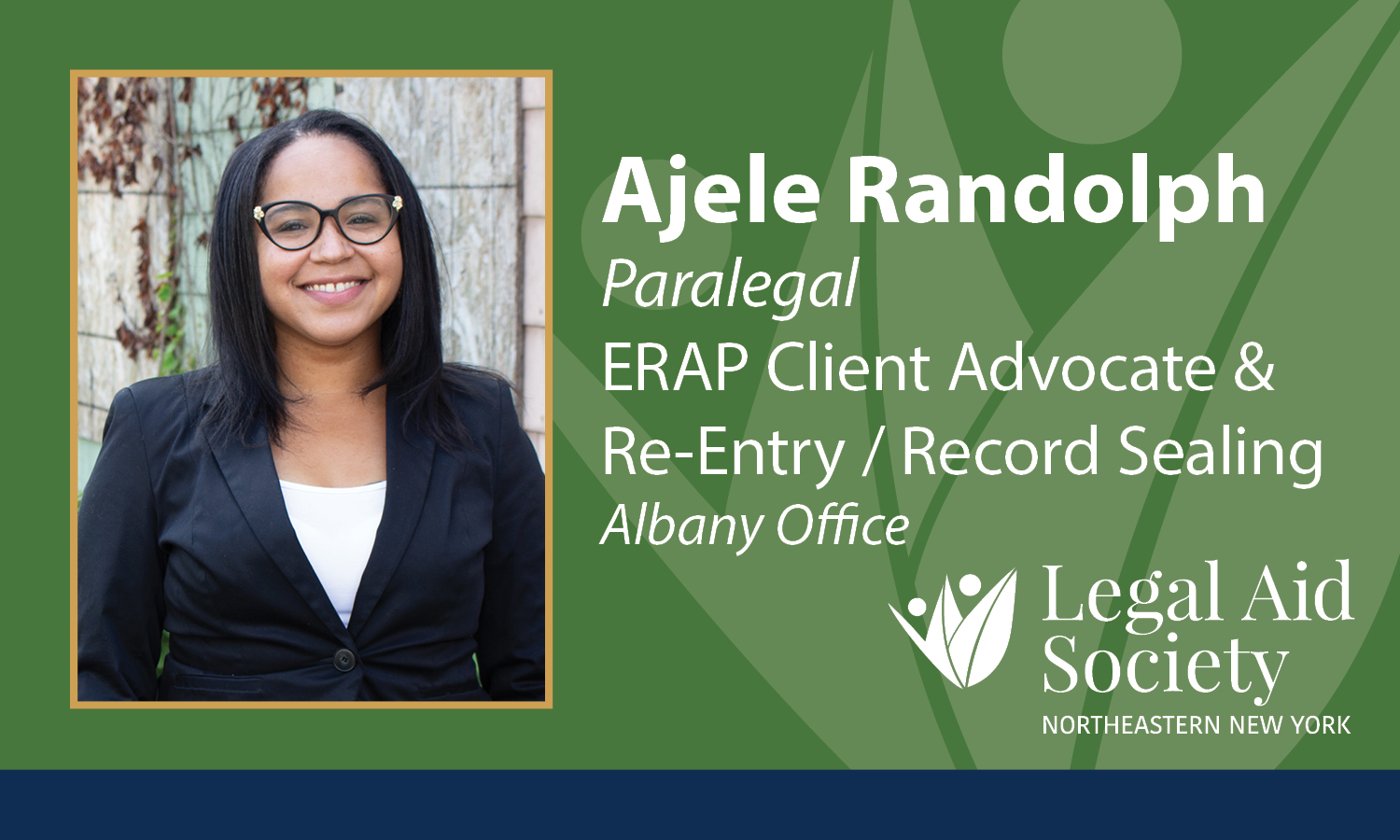 August 1, 2021
Ajele Randolph came to the Legal Aid Society of Northeastern New York in 2015 and has helped thousands of clients connect with the civil legal services they need by matching them with attorneys, advocates, and appropriate community organizations. Her work as a Legal Secretary and as the face of the front desk for the Center for Civil Legal Services has helped to keep our work moving forward.
We are happy to congratulate her on a promotion to Paralegal! Ajele is currently assisting individuals and families access funding through the Emergency Rental Assistance Program (ERAP) to help with rental arrears that have accumulated during the COVID-19 pandemic and to avoid eviction. And she is looking forward to being able to work with our Re-Entry program assisting individuals with previous justice system involvement with record sealing and overcoming barriers to employment and professional licensing.
Ajele is a graduate of Binghamton High School and received her paralegal degree from Bryant & Stratton College in May 2014. She has always had a passion for helping low-income families and people with criminal records who cannot afford private attorneys, and started interning with family court in middle school. She also worked with NYS assisting child support recipients with their cases, and interned with the City of Albany conflict defenders in criminal court before joining the team at LASNNY.
Ajele loves being a mom, singing and dancing, and trying out food from all over the world. She currently resides in Albany with her daughter and their two hermit crabs, Sponge and Bob.
You can learn more about ERAP at www.lasnny.org/ERAP
And our Re-Entry program at https://www.lasnny.org/re-entry-project/