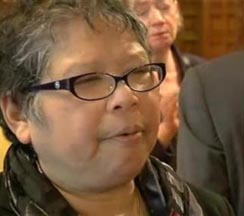 October 13, 2015
COLUMBIA COUNTY — Low-income individuals in Columbia and Greene counties will have more access to legal aid, thanks to a recent grant to the Legal Aid Society of Northeastern New York.
The grant will allow the society to "build a technological bridge between urban pro bono volunteers and clients in Columbia and Greene counties and other counties," said society Executive Director Lillian Moy. "We have great pro bono volunteers."
The society received a $362,559 Pro Bono Innovation Fund grant from the Legal Services Corp., a nonprofit that describes itself as "the single largest funder of civil legal aid for low-income Americans in the nation."
The grant "will allow lawyers to conduct online interviews and share documents so they can help review and prepare pleadings for self-represented litigants in housing and consumer law matters," according to a statement from the society.
"People will be able to do it from their computers at work or home," Moy said. "The client would be interviewed by a pro bono volunteer in Albany."
Also included in the grant are Legal Assistance of Western New York and the Volunteer Legal Services Project of Monroe County.
Clients would call the legal aid society's toll-free number, and if not enough staff is available to represent them, the clients might be connected with a pro bono volunteer in Albany.
"The lawyer will fill out a digital form and generate a pleading that the client can take to court by themselves," Moy said. "A lot of the work the lawyers will do will be in building interview questions." Clients may be going into court without an attorney, but they will have a piece of paper that provides defenses with "the reasons you shouldn't be evicted, the reasons you don't owe the money. I believe it's better for a person to get good advice than to go in cold," Moy said.
Public defenders are generally only called in for criminal cases, she said. "Being evicted and homeless is serious, but not considered the same by the state," Moy said.
It will take six months or a year to build the technical bridge, she said.
The service depends on having access to a computer and the Internet, so Moy said they will be relying on partners like Columbia Opportunities.
In another legal aid news item, a hearing on expanding access to civil legal aid will take place at 10 a.m. today at the Court of Appeals Building, 20 Eagle St.
Speakers will include a bishop, a rabbi, a pastor, a taxpayer advocate, an immigration law professor, and the director of the Albany Public Library.
The following witnesses will testify at the Chief Judge's Hearing on Tuesday morning:
The Most Reverend Edward B. Scharfenberger, Bishop, Albany Roman Catholic Diocese; Rabbi Scott Shpeen, Congregation Beth Emeth; the Rev. David Traynham o/b/o Superintendent McKinley Johnson, Pastor of the Greater St. John's Church of God in Christ; Nina E. Olsen, IRS Taxpayer Advocate; Philip A. Burse, In Our Own Voices, Inc.; Professor Sarah Rogerson (Director, Immigration Law Clinic, Director, Law Clinic & Justice Center, Albany Law School); and Scott C. Jarzombek (Executive Director, Albany Public Library).