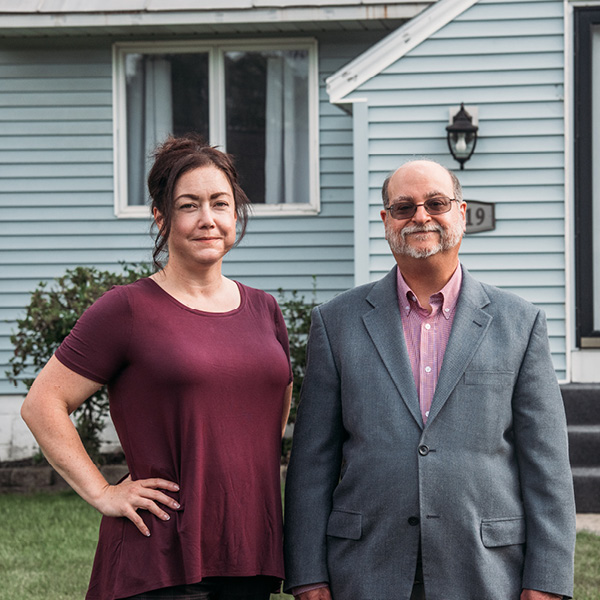 Christine M.
Christine M. – Ensuring stability for a single mother and her children
The goal of the Homeowner Protection Program is to keep people like Christine M., a single mom of three who also works full time, in their homes. Christine came to the Legal Aid Society of Northeastern New York and was introduced to attorney Stuart Thalblum, together they were able to ensure the stability for her family that she was hoping for.
A few years ago, Christine fell behind on her mortgage and entered foreclosure. And for a while, she tried to find a solution to the foreclosure on her own. She says, "I was diligent and did everything the banks asked me to do, but it wasn't having an effect." The lenders and bank employees kept changing, making for a very slow and complicated process. Eventually, Christine filed for bankruptcy, but still couldn't sort out the mortgage payments. She remembers, "I felt like there was no way out. I found myself getting deeper and deeper into a hole."
Finally, Christine decided to get in touch with The Legal Aid Society of Northern New York (LASNNY), to see if they could help. Christine says, "I work for a non-profit and we make a lot of referrals to LASNNY, so I'm familiar with the organization." But because she is employed full time and earning a moderate income, she wasn't sure if she would meet the requirements. Fortunately, Christine met the criteria and was able to get the assistance she needed.
Christine says, "I was referred to Stuart Thalblum and he was amazing about taking the burden off my shoulders and letting me know what my options and rights were." She continues, "Stuart and the entire LASNNY staff were great about walking me through the entire process."
Stuart gives Christine a lot of credit for the successful outcome. He says, "She did most of the work on her application and I stepped in to straighten out some of the legal issues (i.e. bad faith and shortcomings of bank)." This case was a bit complicated because the mortgage was not serviced by one of the big banks and a very small law firm represented it. Because Stuart and Christine were dealing with smaller firms, negotiations took a lot longer. Their initial goal was a mortgage modification, but the process was neither easy nor straightforward.
Stuart attended settlement conferences over the course of a year, but the banks rejected Christine's modification application multiple times. They claimed she still owed money, but in actuality these debts had been wiped out thanks to bankruptcy. Fortunately, Stuart's experience in bankruptcy proceedings allowed him to find and present these resolutions to prove that she was in the clear.
During settlement conferences, the bank initially offered two alternatives: $67,000 payments over 12 months or a "short pay off," which would require paying off a reduced amount in full. In a stroke of luck, Christine received a substantial monetary inheritance during this time. At the final settlement conference in December 2020, the bank's counsel asked if she would consider a short pay off option instead of a reinstatement.
After conferring with Stuart, she offered $55k and the bank accepted. The new mortgage modification came with a 4% interest rate and a 12-year increase in loan life, both things Christine felt comfortable with.
Even after the modification was in place, Stuart remained diligent. Christine says he kept fighting to make sure every last detail was ironed out, specifically issues regarding paying the homeowner's insurance out of escrow. And finally, Stuart made sure that the case was dismissed so that the foreclosure no longer shows up on title reports. Everything wrapped up in the spring of 2021 and Christine is currently living in her home and managing payments.
Christine credits Stuart's diligence for her case's outcome. She says, "I can't say enough good things about him. He always went above and beyond and was available to answer questions whenever I needed him." For others in a similar situation, she urges them to get in touch with LASNNY, even if they're not sure if they'll meet the criteria. LASNNY's grants have varying income requirements and mortgage modification programs typically have higher thresholds, with the goal of keeping homeowners in their homes.
*Names and details have been changed to protect the privacy of the client and her family.