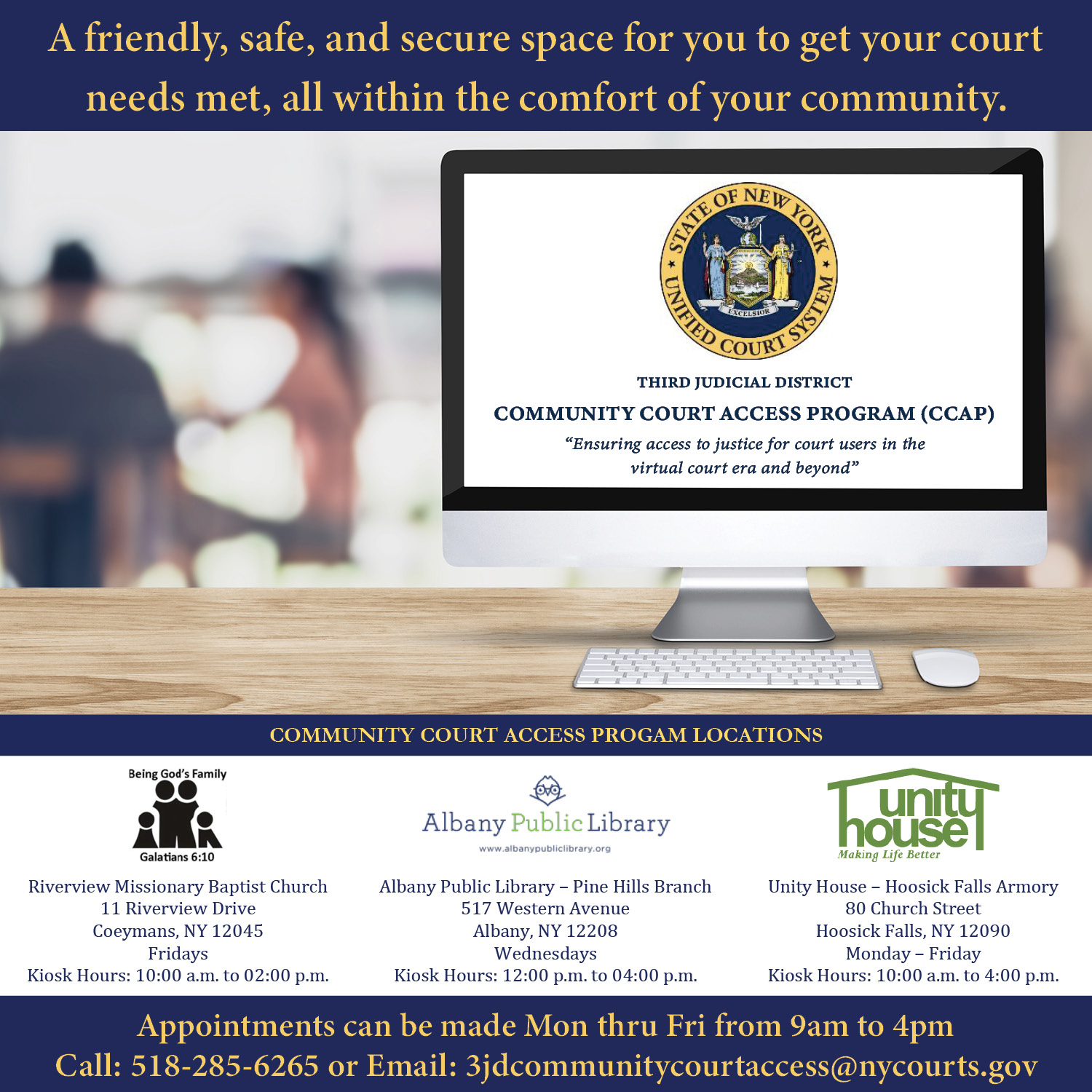 October 29, 2021
Need to attend a virtual court appearance but are lacking transportation, childcare, or computer equipment and/or internet access?
Do you need assistance with completing and/or filing paperwork with a court?
Need help locating and accessing legal services?
Are you looking for community resources such as Domestic Violence, Mental Health, Housing and more?
The New York State Unified Court System 3rd Judicial District in partnership with your community has created the Community Courts Access Program (CCAP) to provide access to you or any person seeking assistance with court matters. The CCAP creates a friendly, safe, and secure space for you to get your court needs met, all within the comfort of your community.
CCAP Program Locations:
Riverview Missionary Baptist Church – 11 Riverview Drive, Coeymans, NY 12045

Fridays – Kiosk Hours: 10:00 a.m. to 02:00 p.m.

Albany Public Library – Pine Hills Branch – 517 Western Avenue, Albany, NY 12208

Wednesdays – Kiosk Hours: 12:00 p.m. to 04:00 p.m.

Unity House – Hoosick Falls Armory – 80 Church Street, Hoosick Falls, NY 12090

Monday – Friday – Kiosk Hours: 10:00 a.m. to 4:00 p.m.
Schedule an Appointment: Contact our Community Court Access Program help center to schedule an appointment.
Call us at: (518) 285-6165
Email us at: [email protected]
Appointments can be made Monday – Friday 09:00 a.m. to 04:00 p.m.
CLICK HERE to download CCAP Legal Assistance Information
CLICK HERE to download the flyer
CLICK HERE to download a brochure