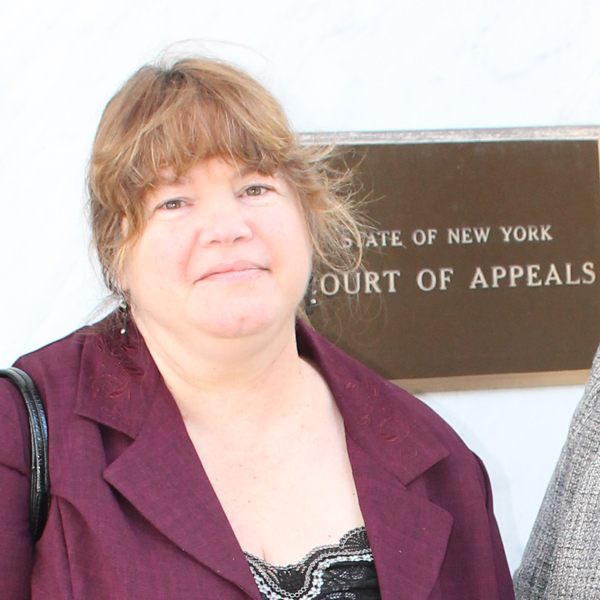 Donna Spinner
Donna Spinner was married to her husband for over 30 years, when one day, he disappeared. Complicating the situation was the fact that the couple was in the midst of bankruptcy proceedings. Donna, middle-aged and with little work experience, was now on her own. Donna's husband had worked for many years as a licensed petroleum product site developer and eventually the couple did well enough to open their own business in the field. Donna took on the role of bookkeeper for the company, but her husband was elusive about the state of their finances and by 2008 the company was bankrupt. This is when Donna's husband took off – with customer payments in tow. A warrant was issued for his arrest. Donna retained an attorney and filed for divorce and spousal support, but her husband was evasive and they were unable to track him down. Donna says, "At this time, I was approximately 50 years of age. I had no employment, no income, and the home I had lived in with my children was being foreclosed upon." She continues, "I also realized at this time that by working unpaid for my husband, I had no employment history, and no earnings for Social Security purposes."
Donna moved back home with her elderly mother and due to health problems, applied for public assistance. Through her children, Donna learned that her husband was gainfully employed, but tracking him down proved to be fruitless. In 2014, when she was at her lowest point financially and health-wise, her husband served her with divorce papers. On the recommendation of a friend, Donna sought the help of Legal Aid and staff attorney Gerry Schafer was assigned to her case.
Gerry explains, "When he thought she was low enough, he decided to file for divorce, thinking she wouldn't be able to seek representation and fight back. However, once Donna acquired representation, he didn't want a divorce anymore." Gerry says Donna's husband could see the writing on the wall — he knew he'd be required to provide maintenance. Donna's husband retained counsel, making court proceedings a bit easier, but he was uncooperative when it came to disclosing financial information. But Gerry says, "Donna was a great record keeper; she had all of his old tax returns and licenses so we could prove his income potential." Thanks to the information that Donna and Gerry presented in court, Donna's husband ultimately agreed to pay maintenance each month. Gerry explains it was a tough balance, "Based on some of his work history, we could have pushed for higher maintenance, but he's on the cusp of retirement, and I wanted to be sure he would pay."
To date, Donna's husband has obeyed the court order and Donna's quality of life has increased exponentially. She says, "I wake up in the morning free of the anxiety, stress, and depression that I endured for so many years of my marriage. I am no longer controlled emotionally or financially." She continues, "I no longer have to reside with family members, nor do I receive public assistance." With improved health and a more stable financial situation, Donna is ready to enter the next stage of her life. As of press time, she intends to enroll in college and enter the work force; something her husband had prevented her from doing. Because her husband was so uncooperative during the divorce process, legal representation was a necessity. And thankfully, Legal Aid was there to help.