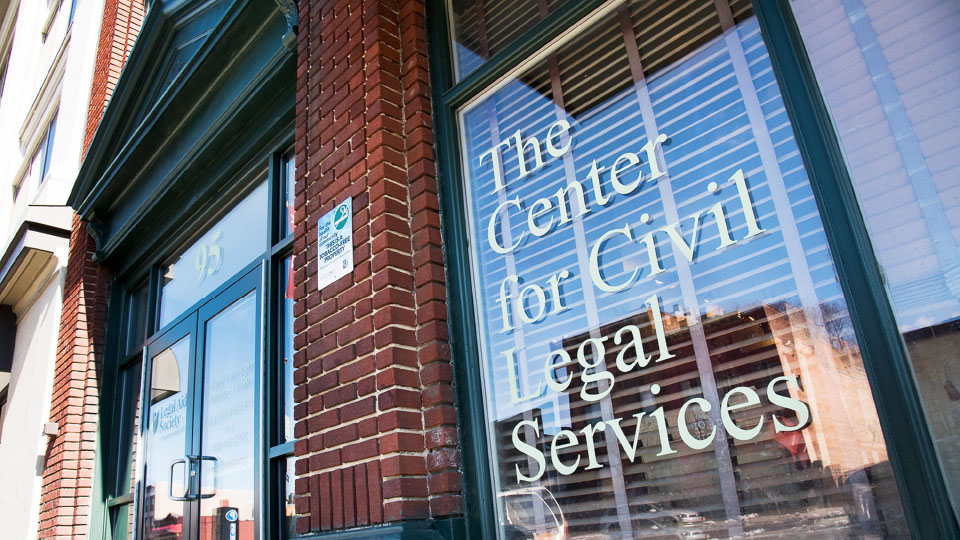 May 3, 2018
Empire State Development (ESD) today announced the grand opening of the Legal Aid Society of Northeastern New York's (LASNNY) new Center for Civil Legal Services at 95 Central Avenue, Albany, commemorating the occasion with a ribbon cutting and open house. The Center for Civil Legal Services will enable LASNNY to provide a new community engagement program, legal education clinics and legal check-ups for residents in need, especially in Albany's West Hill, Arbor Hill and South End communities.
ESD President, CEO and Commissioner Howard Zemsky said, "The Legal Aid Society of Northeastern New York has been providing crucial legal services to the Capital Region for nearly a century. This project will increase office space, allowing staff and volunteers to assist more clients, and will encourage community engagement through new programs."
LASNNY is one of the oldest legal services organizations in the United States. Incorporated by city leaders in 1923 as the Legal Aid Society of Albany, LASNNY provides effective, free civil legal services, education to and advocacy for people with low income or other barriers to accessing the legal system. They secure basic needs, protect and preserve legal rights, provide equal access to justice and seek fairness and dignity for all clients.
The Center for Civil Legal Services includes a pro bono "beehive" that will provide office space and amenities to volunteers for LASNNY and other providers, bringing pro bono lawyers and law students to West Hill each day. The organization expects its clients, especially nearby neighbors, to see significant economic benefits from LASNNY's public assistance and consumer debt representation, as well as increased household stability, and clients ready for education and employment.
Lillian M. Moy, LASNNY Executive Director, said, "Legal Aid Society of Northeastern New York's new Center for Civil Legal Services allows us to expand free and innovative legal services and access to justice throughout the Capital Region. The Regional Economic Development Council award allowed us to leverage other supporters who shared our vision to make the Center for Civil Legal Services a reality."
LASNNY invested more than $1.8 million dollars to purchase and renovate the building, creating a respectful and professional environment to offer critical legal services to its diverse clientele. Empire State Development has agreed to provide up to $300,000 through a capital grant, recommended by the Capital Region Economic Development Council during Round VI of the Governor's regional council initiative. Various donors and organizations supported the project with additional funding.
CREDC co-chairs Ruth Mahoney, KeyBank Market President, and Dr. Havidán Rodríguez, University at Albany President, said, "The Center for Civil Legal Services will allow LASNNY to continue providing vital legal services to those in need, supporting neighborhood revitalization and workforce training efforts. On behalf of the CREDC, we are proud to have supported this project with a priority recommendation."
Senator Neil Breslin said, "The opening of this new Center for Civil Legal Services offers a great opportunity for local residents to receive free legal counseling. This will greatly reduce barriers to our legal system for people who would otherwise not have an equal opportunity to seek justice. I applaud both Empire State Development and the Legal Aid Society of Northeastern New York for helping to address this critical need right here in Albany."
Assemblymember Patricia Fahy said, "Our civil justice system is complicated to navigate, especially for working families without ready access to legal counsel. When families need help in civil legal cases, the Legal Aid Society of Northeastern New York has been there to help for almost a century. I am proud to have allocated capital funds to help make this project possible since the new opening of LASNNY's new Center for Legal Services in Albany marks a redoubling of their years of advocacy on behalf of those in need of legal services. Congratulations to LASNNY on their new facility and best wishes for many more years of serving the underserved."
Assemblyman John T. McDonald III said, "As a supporter of this project I am very pleased to be a part of the opening of the new Center for Legal Services, a facility that will be focused on community engagement and providing important resources to our neighborhoods. At a time when we are seeing an increased need for these services, these partners have come together to provide a centrally located facility that will improve the lives of vulnerable individuals."
Assemblyman Phil Steck said, "The Legal Aid Society of Northeastern New York will provide a great service to the Capital Region community. Everyone, regardless of where they are from or what their background is, deserves access to quality, legal representation to ensure their rights are protected. Furthermore, LASNNY will also give lawyers and law students a better opportunity to do pro-bono work to gain valuable experience and help those in need. The services provided will make a lasting difference in the community and will ensure everyone receives the adequate representation they are entitled to."
Albany County Executive Daniel P. McCoy said, "Congratulations to the team at the Legal Aid Society of Northeastern New York on the opening of your new Center for Civil Legal Services in Albany. LASNNY is a critical foundation in our community, and I am proud of the partnership that Albany County has had with you in recent years. This new facility will be a true resource for all residents in Albany County, especially those in the West Hill neighborhood. For 95 years you have been instrumental in ensuring a fair legal system for all, and I look forward to our continued partnership as you enter your next 100 years."
Albany Mayor Kathy Sheehan said, "We are thrilled to welcome the Legal Aid Society of Northeastern New York's new Center for Civil Legal Services to Albany. It is important to ensure that all people, regardless of economic status or other barriers, have access to legal guidance when they need it. This facility will offer vital services and opportunities to Albany's West Hill, Arbor Hill and South End communities."
About Empire State Development
Empire State Development (ESD) is New York's chief economic development agency (www.esd.ny.gov). The mission of ESD is to promote a vigorous and growing economy, encourage the creation of new job and economic opportunities, increase revenues to the State and its municipalities, and achieve stable and diversified local economies. Through the use of loans, grants, tax credits and other forms of financial assistance, ESD strives to enhance private business investment and growth to spur job creation and support prosperous communities across New York State. ESD is also the primary administrative agency overseeing Governor Cuomo's Regional Economic Development Councils and the marketing of "I LOVE NEW YORK," the State's iconic tourism brand. For more information on Regional Councils and Empire State Development, visit www.regionalcouncils.ny.gov and www.esd.ny.gov.