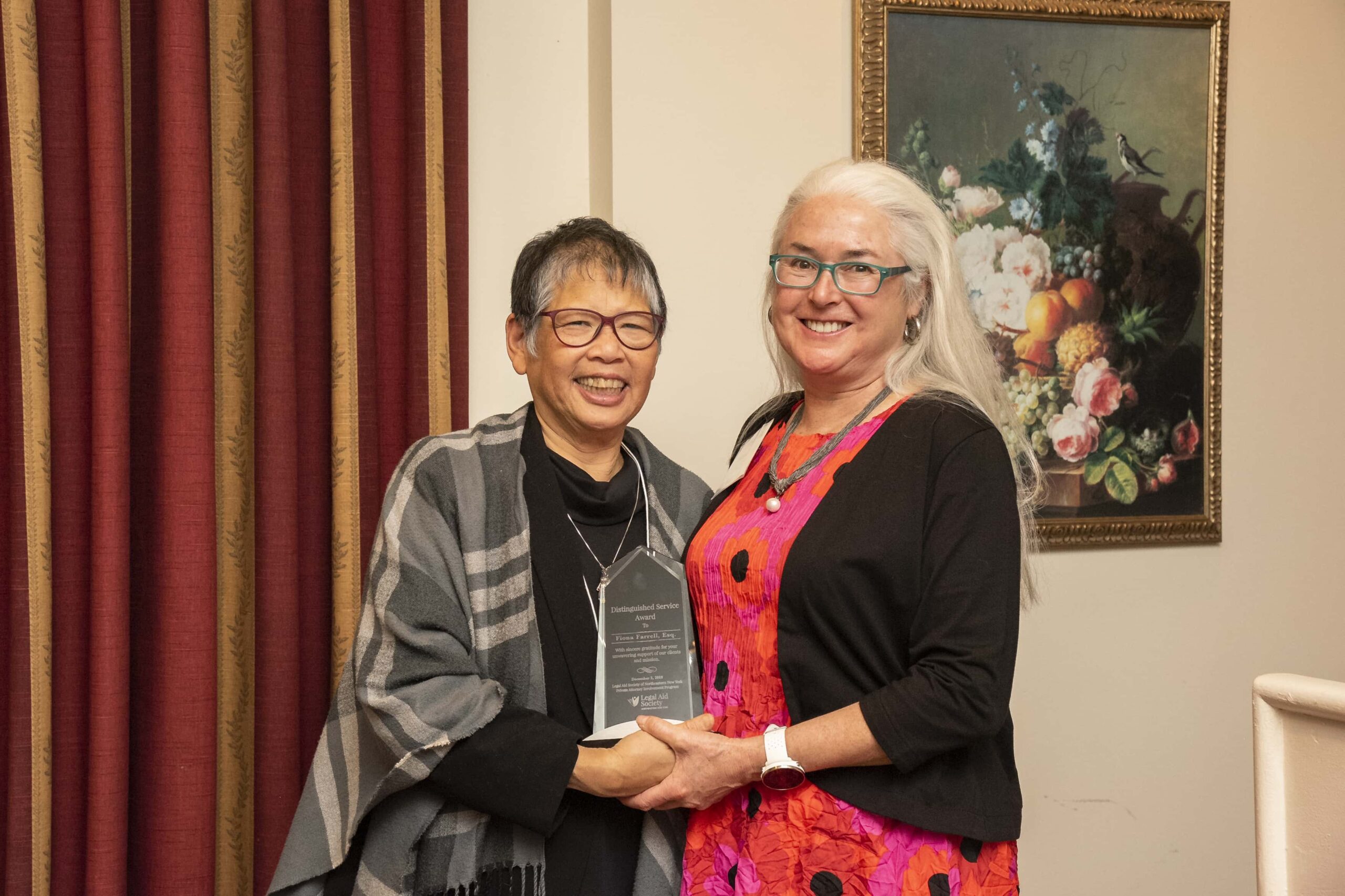 Fiona Farrell has been an essential piece of the expansion of the Legal Aid Society of Northeastern New York (LASNNY) Attorney for the Day (AFTD) program into the Glens Falls City Court. In 2019 she helped seventeen clients avoid money judgments, get time to find new housing, or avoid eviction altogether. Without her help, these tenants would have had to represent themselves in housing court where they could have been evicted in as little as 72 hours or been ordered to pay large sums of money to their landlords.
Attorney for the Day is an in-person, limited scope pro bono program where attorneys represent low-income tenants facing eviction in housing court on a particular date. The representation begins and ends the same day. The LASNNY Attorney for the Day program currently operates in Albany, Glens Falls, & Troy City courts.
In rural areas like the North Country, it can be a challenge to find housing and legal representation, when necessary. Because of Fiona's tireless efforts, many low-income individuals have one less thing to worry about. In addition to directly helping clients, Fiona has also assisted other PAI volunteer attorneys by sharing her documents, letting them shadow her in court, and being available as a resource.
Born in Montreal, Quebec, Fiona Farrell lives on a small farm in Saratoga with her husband Kevin and their menagerie of animals including horses, dogs, and a cat. Luckily Saratoga County is the perfect spot for an equine lover like Fiona; she owns a solo law practice that focuses primarily on horses and their people and has been active on behalf of equine welfare initiatives, including serving as a member of the NYS Task Force on Retired Racehorses. Most notably, Fiona started the Thoroughbred Renaissance program to promote thoroughbreds for use as show and pleasure horses.
Fiona says, that being an AFTD is one of the most direct ways she's been able to help people in need. Fiona explains, "Volunteering helps me see in stark and immediate human terms the difference that legal representation can have. It can spell the difference between becoming homeless in days or not, in owing multiple thousands of dollars or much less, in feeling helpless or that someone is in one's corner."
And the appreciation is mutual – LASNNY is all the better because of Fiona's contributions. LASNNY's PAI (Private Attorney Involvement) paralegal, Melody Harkness, says, "Fiona has been instrumental in sustaining our Attorney for the Day program in Glens Falls. She is a zealous advocate and is always willing to mentor and share her expertise with new pro bono advocates."