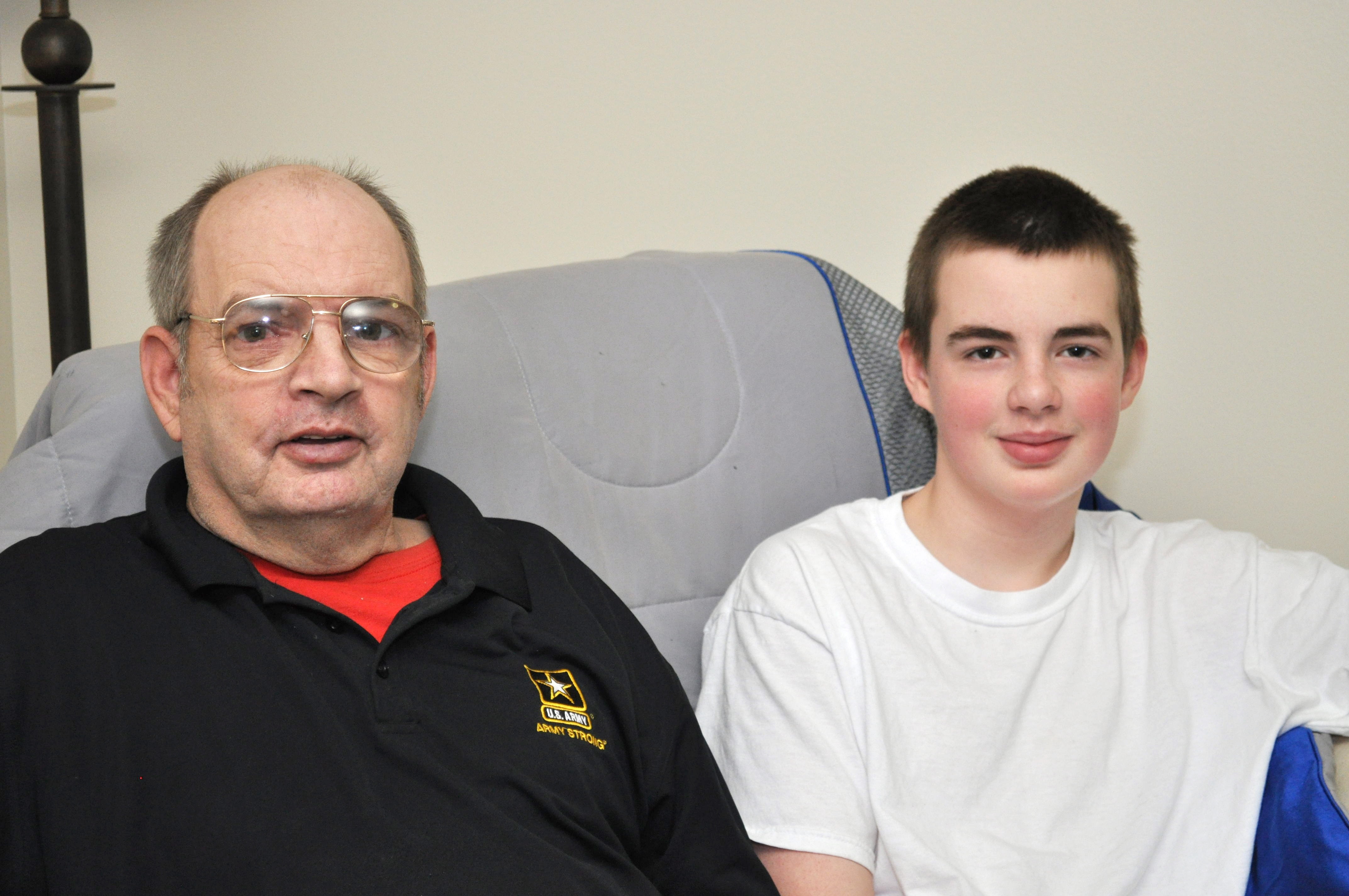 Mike and Derrick O'Donnell
The walls of Mike O'Donnell's living room are decorated with pictures of cities and stadiums, and he looks forward to collecting team pennants on trips with his son, Derrick. The father and son do not live together now, but that will soon change, thanks to the help of LASNNY PAI volunteer Mike O'Brien, who just announced O'Donnell won custody of Derrick this March.
O'Brien has been handling O'Donnell's custody and visitation case since late 2011. O'Brien and O'Donnell are both veterans. The client served in the Army Airborne in Vietnam, and the lawyer served 34 years in the National Guard. When O'Brien retired from the NYS Health Department in 2010, he came to LASNNY with an interest in helping veterans. It was a synchronous moment, because the organization had just set up a counseling project for veterans. This put the two men in each other's path.
Mike O'Donnell volunteers at the Vet House on First Street in Albany, one of the sites where O'Brien counsels veterans. When Derrick moved from his mother's house to foster care, Mike lost contact with his son, and he approached the lawyer for help.
O'Brien advised O'Donnell to stay in touch through letters and build a rapport with caseworkers at Schoharie County Social Services.
"Last summer the boy started asking for his father to visit," said O'Brien. Now, the two are having regular visits, at least every other week, either at the Berkshire Farms facility where he lives, or weekend visits in Mike's Albany apartment.
After almost two years of living in foster, group and residential homes, Derrick sent a letter last December to the Schoharie Family Court requesting that he be allowed to live with his father and attend Albany High. He wrote the judge that he realizes that no one can help him but himself, and is committed to self-improvement.
The fourteen year old described his sense of responsibility, writing of plans for holding a part time job, and preparing for college. It included a report card, showing a record of applying himself to his studies. But it didn't directly state what his father and lawyer have said: that the boy is a mentor for others at Berkshire Farms, and is really turning his life around.
"I kept telling him to work hard in school, and he did," said O'Donnell, who is very proud of his boy's initiative.
This PAI case is far more involved than most PAI cases.
"I've been seeing vets with money issues, vets who need shelter, or need help applying for SSI or veteran benefits," O'Brien said of his other work for LASNNY. He's given about 100 hours to this custody and visitation case, helping with bare logistics like transportation for O'Donnell, to the real meat of the matter, case management meetings and court sessions. The investment is paying off, just in terms of the connection the father and son have developed. The potential that the father and son may live together this summer is very rewarding, too.
"Most of the cases you work on you don't see such a nice progression," said O'Brien.
The satisfaction appears to be mutual. "I could not have done a thing without Mike," said O'Donnell, who regularly praises the aid LASNNY offers to veterans.