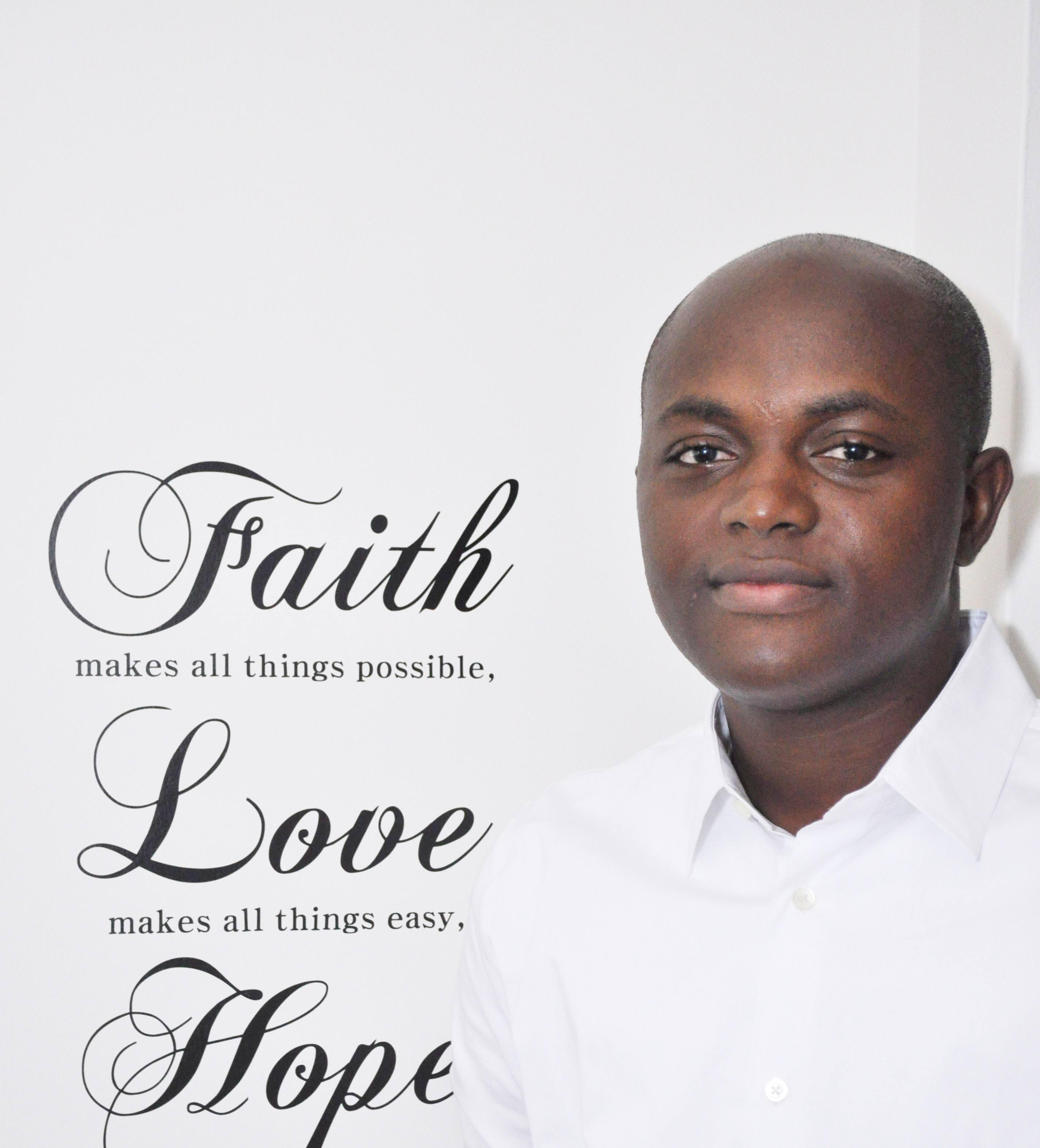 Charles Badu
Immigration case has a happy ending
When Charles Badu talks about becoming an American citizen, his whole face breaks into a grin. LASNNY and attorney Brian Wang helped build that smile.
A native of Ghana, Charles came to this country when he was 18 in 2001, his heart and mind set on becoming a United States citizen.
"My mom would take us on long vacations to America," Charles recalls, beaming across the living room of an Albany apartment at his mother, visiting from Ghana.
His uncle, a U.S. citizen, adopted Charles. This allowed him to pursue permanent residence and a green card. After he got these, he needed to wait the standard five years before applying for citizenship.
Charles went about his life, assuming his papers were in order. He went to school and he worked. When his grandmother died in 2009, he went home to Ghana to visit family. Upon his return to the United States, nothing seemed out of the ordinary at customs. However, a few weeks later, just months shy of the date he could apply for naturalization, he received a letter requiring him to report for a deportation hearing.
This was not because Charles had done anything wrong. He had applied for permanent residence based on being adopted by his uncle, and immigration overlooked the fact that he had aged out of eligibility.
Charles hired a lawyer to help him unravel the complicated situation, but nothing was resolved. He kept working and attending the Borough of Manhattan Community College. He joined the Air Force Reserve because he wanted to give back to the country that has given him so much. Eventually, early in 2012, he found LASNNY.
"I contacted the Department of Homeland Security, Immigration and Customs Enforcement, their trial attorneys, to see if they were willing to work with him on this case," Brian Wang says.
While researching the situation, Wang found that Badu would be eligible for naturalization under a special provision of the immigration laws that allow for active duty military or people serving in reserves to naturalize regardless of their status. Outside of military bases, this section of the law does not surface often, making the case more complicated than most immigration issues he handles.
"Brian assured me that America was fair and the law was on my side, and I had faith," Charles says. "My mother said pray, pray, pray, and I did."
While he was confident that the immigration law read in Charles' favor, Brian did have concerns.
"Because it was such an obscure aspect of the law it might be a difficult task to convince the government that's granting the benefits that this is what the law says," Brian says.
Thus, he enlisted additional aid, asking the immigration liaison unit of Senator Kirsten Gillibrand's office to advocate on behalf of Charles. The Senator's office worked with Immigration and Customs Enforcement to ask for their agreement to administratively close Charles' deportation proceedings so that he could pursue his naturalization through the military.
With this assistance, and diligent attention to all areas of the case, from educating involved parties on the intricacies of this law, to making sure Charles' paperwork followed him first to Basic Training and then back to Albany, Charles Badu became a U.S. citizen on August 23rd, 2012.
The work was very satisfying, says Brian Wang, and Charles Badu is very grateful for the help. While Charles sent a thank you note to Senator Gillibrand, he wants this story to thank her and her office, as well as the judge, LASNNY, Brian Wang, and the United States.
"America's the best," says Charles. "It has a lot of opportunities. This country really cares about the rest of the world, and never stops helping anybody else, no matter if there's a backlash against them."