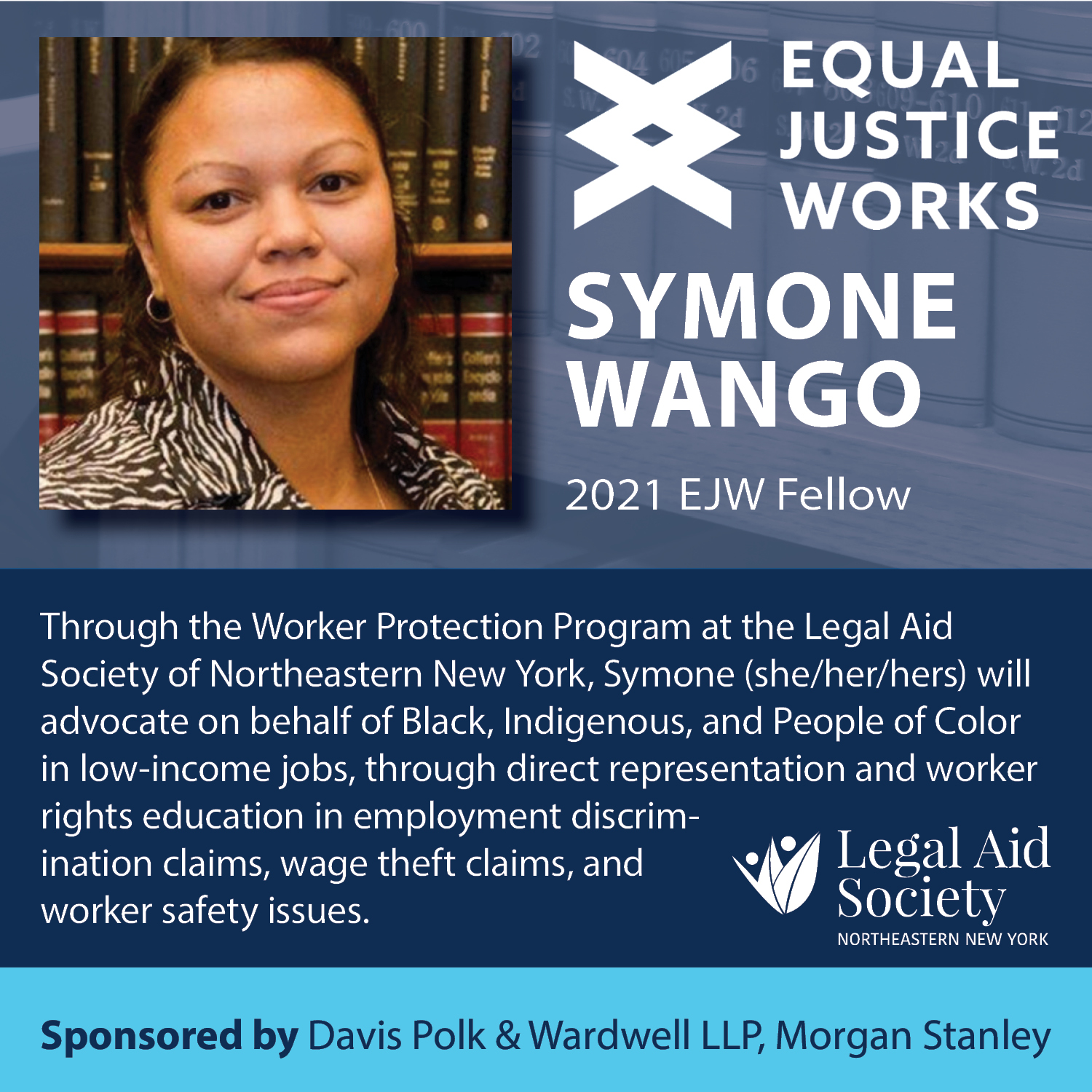 May 13, 2021
Equal Justice Works, the nation's largest facilitator of opportunities in public interest law, today named its 2021 class of Equal Justice Works Fellows. Each of the 77 law school graduates, in collaboration with a legal services organization, has designed a two-year Equal Justice Works Fellowship project to address the unmet legal needs of the community where they will serve.
"We take great pride in launching the careers of passionate public service leaders through an Equal Justice Works Fellowship," said David Stern, executive director at Equal Justice Works. "We look forward to supporting our new Fellows in bringing critical legal services to communities still reeling from the effects of the pandemic, and in their work responding to ongoing racial injustice throughout our country."
Each year, Equal Justice Works selects a class of public interest lawyers who have designed one-of-a-kind projects in partnership with legal services organizations. These projects are funded by law firms, corporations, private foundations, and individual supporters.
Selected from 466 applications, the 2021 class of Equal Justice Works Fellows includes graduates from 47 law schools who will work at 70 legal services organizations across 20 states, Washington, D.C., and Puerto Rico. Among this year's sponsors are 26 leading law firms recognized in the Am Law 200 and 22 Fortune 500 corporations.
Equal Justice Works Fellows in the 2021 class have created projects to address a wide range of legal issues.
The Legal Aid Society of Northeastern New York is honored to be hosting Symone Wango (she/her/hers), a graduate of Albany Law School. During her Fellowship, Symone will provide direct representation to low-income workers of color for employment discrimination claims, wage theft claims, and workplace safety issues. Symone will launch a "know your rights in the workplace" campaign by engaging low-income workers in the area and coordinating with local community-based organizations and service providers that serve low-income workers. Symone's Fellowship is cosponsored by Davis Polk & Wardwell LLP and Morgan Stanley.
Over the past three decades, Equal Justice Works has awarded more than 2,000 Fellowships to lawyers who are committed to ensuring equal access to justice for underserved communities. Our Fellowship programs are designed to effect change in communities and throughout our country by mobilizing Fellows to work on key issue areas such as disaster resilience, housing equality, and crime victims' rights, as well as through the opportunity for a Fellow to work with a legal services organization to design and implement a unique project in response to a specific or emerging need.  On average, 85% of Equal Justice Works Fellows remain in public service positions, continuing to help fulfill our nation's promise of equal justice for all.
Click here for a full list of the 2021 Equal Justice Works Fellows, host organizations, and sponsors.