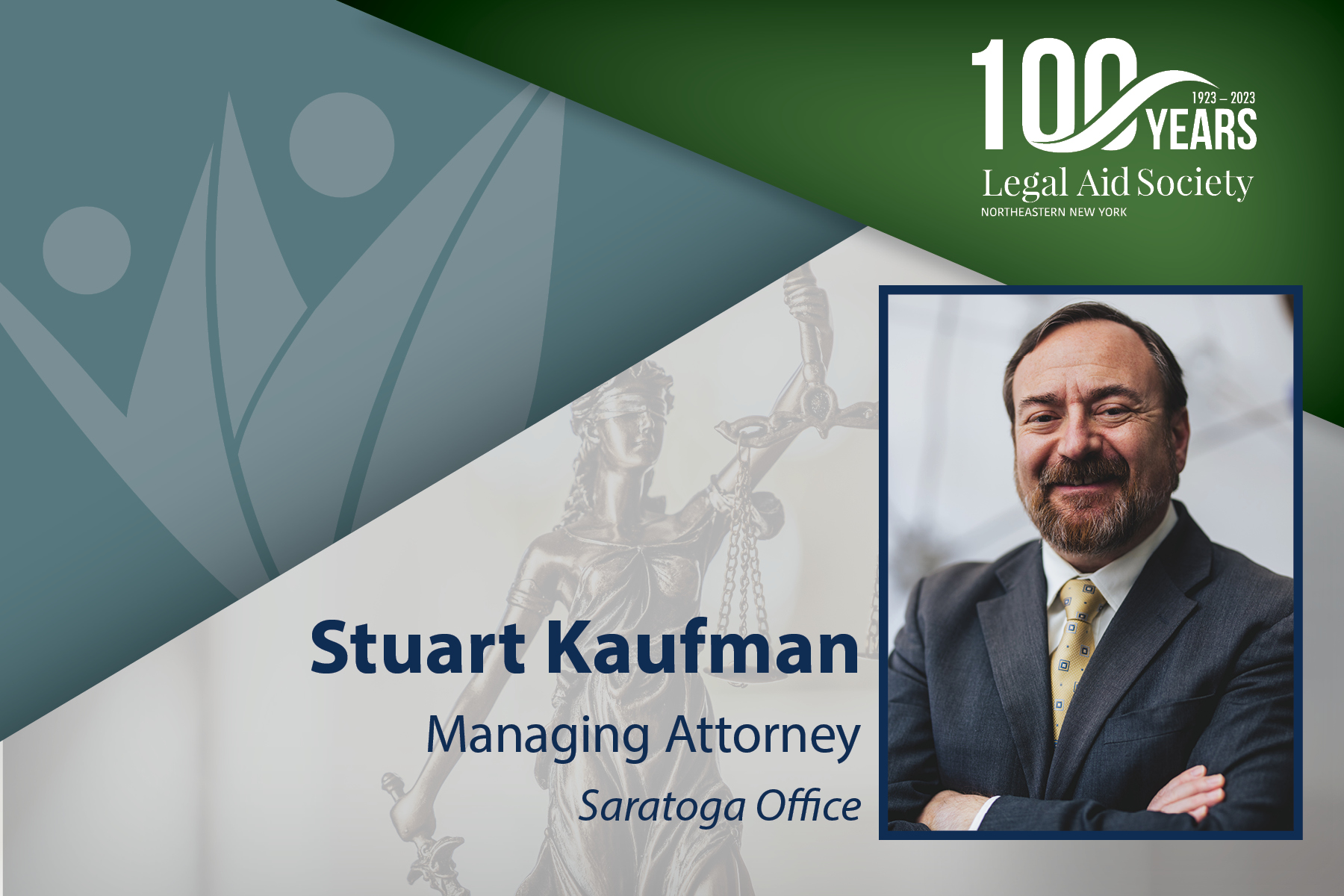 February 16, 2023
Congratulations to Stuart Kaufman, Esq. on his promotion to Managing Attorney of Regional Intake in our Saratoga Springs office. We are grateful for your commitment to excellence, passion for achieving justice, and ability to lead and mentor others.
Stuart A. Kaufman, Esq. is the Managing Attorney of Regional Intake at the Legal Aid Society of Northeastern New York, Inc., in the organization's Saratoga office. He has practiced housing law for many years, representing tenants in eviction matters. Since he joined the Legal Aid Society in 2006 he has practiced in matters involving housing, disability, elder law, family law, and domestic violence.
Mr. Kaufman has presented several trainings to professionals and lay persons on legal topics relating to housing law, family law, domestic violence, and elder law. He is a member of the New York State Bar Association and serves as President of the Saratoga County Bar Association. He has been a long-standing member of the Saratoga-North Country Continuum of Care, previously the Saratoga County Housing Alliance, and has run the Saratoga Springs City Court In-Court-Attorney program. He has also volunteered with Cindy's Comfort Camp, a grief counseling camp for kids, at the Double H Ranch in Lake Luzerne, NY. He earned his J.D. in 2005 from Northeastern University School of Law, and his B.A., with general honors, in 1996 from the University of Miami. He is admitted to the New York State Bar and the U.S. District Court, Northern District.