LASNNY Responds to the Mass Shooting in Buffalo, NY
Racial Equity
LASNNY Responds to the Mass Shooting in Buffalo, NY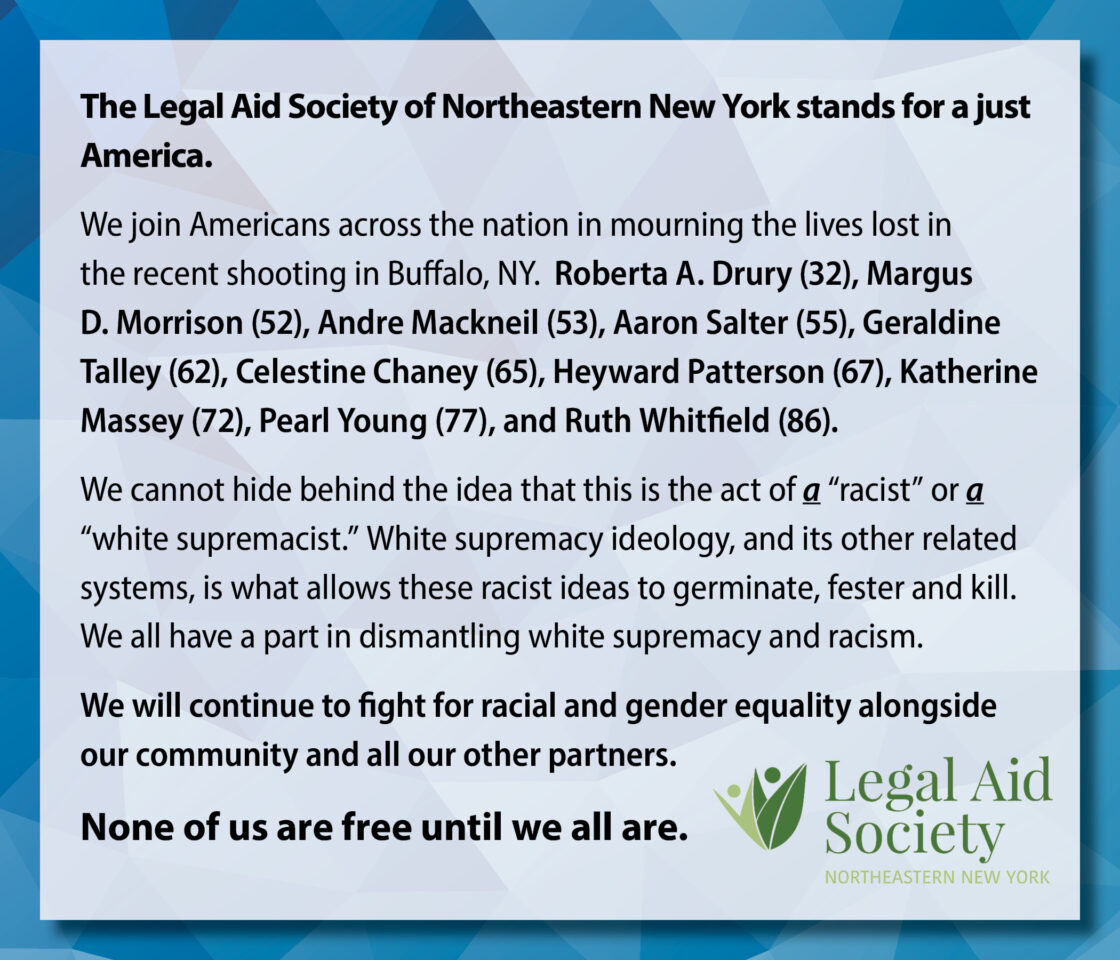 The Legal Aid Society of Northeastern New York stands alongside the nation in mourning the lost lives in the May 14 mass shooting in Buffalo, NY.
Roberta A. Drury, 32, of Buffalo
Margus D. Morrison, 52, of Buffalo
Andre Mackneil, 53, of Auburn, New York
Aaron Salter, 55, of Lockport, New York
Geraldine Talley, 62, of Buffalo
Celestine Chaney, 65, of Buffalo
Heyward Patterson, 67, of Buffalo
Katherine Massey, 72, of Buffalo
Pearl Young, 77, of Buffalo
Ruth Whitfield, 86, of Buffalo
https://www.cnn.com/2022/05/15/us/buffalo-shooting-victims-what-we-know/index.html
White supremacy is violence. Another racist attack, this time in our own state.  10 black lives were lost, and 3 others injured yesterday in Buffalo, NY when a white supremacist opened fire at a supermarket.  His fear? That whites will be replaced by black, brown and people of color.
This is what it means to be a person of color, especially black, in this country – living in constant fear for your life as you go about your daily chores like grocery shopping. The killer was from outside of the Binghamton area; so close to home.  And it is particularly terrifying for BIPOC to know that there are people right now whose fear drives them to not only plan for, but also execute people of color galvanizing others to do the same.
We cannot hide behind the idea that this was the act of someone with a mental illness or the idea it is the act of a "racist" or a "white supremacist." White supremacy ideology, and its other related systems, is what allows these racist ideas to germinate, fester and kill.  We all have a part in dismantling white supremacy and racism.
Here are some tools to practice anti-racism today — for more ideas click here: https://katrinareader.cwsworkshop.org/node/451.html
Study the historical development of white supremacy and analyze how it impacts the issues you work on: capitalism and landlord-tenant relationships, ableism and disability law, and patriarchy and family law.
Challenge privileged/oppressive behavior in yourself and in others.
Challenge individualism and competition which distort the goals of social justice.