LASNNY's Commitment to Black Lives Matter
Racial Equity
LASNNY's Commitment to Black Lives Matter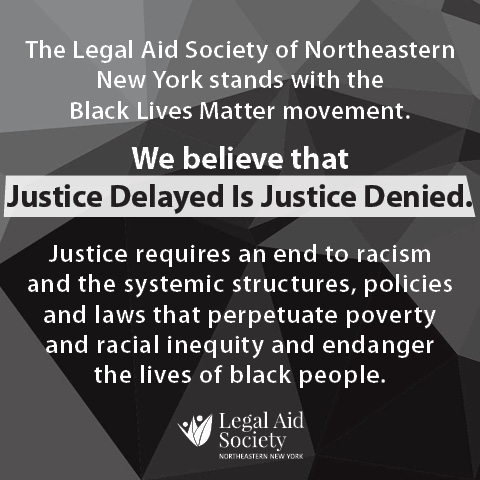 We watched for two weeks after George Floyd was murdered…about two months after Breonna Taylor was murdered…four since Ahmaud Arbery was murdered. Almost four years after Philando Castile; eight after Trayvon Martin. Six and a half decades after Emmett Till. During this watch we steeped in anger, despair, disgust and sadness. We felt shame, fear, horror – we were both heartbroken and outraged. We mistrusted each other and those around us. We journaled, shouted out, organized, marched and protested, donated, wept and all the while, at work, we responded to deep injustice even in the midst of a pandemic.
We meditated and prayed, talked and shared, and now we write to express our ongoing commitment to the black people we serve, work with and partner with. The Legal Aid Society of Northeastern New York stands with the Black Lives Matter movement. We believe that Justice Delayed Is Justice Denied. Justice requires an end to racism and the systemic structures, policies and laws that perpetuate poverty and racial inequity and endanger the lives of black people. We will use our talent and time to create a world free of systemic inequality and racist violence.
The Legal Aid Society of Northeastern New York remains committed to:
Ensuring race equity within Legal Aid
Considering a race equity priority for our legal work
Reassessing our goals and strategies to ensure that they are aligned with the most pressing needs of the communities we serve
Collaborating with clients, community partners and attorneys who also commit to ending racist violence in our community and country
Our mission embodies this commitment to a society which is inclusive and equitable for all. We will always use the law to "address individual and systemic wrongs and inequities" and to ensure fairness, dignity and justice for those living in poverty.
Legal Aid will continue to be an anti-racist law firm that embodies a compassionate, unconditional commitment to condemn police brutality against black and brown people, to stand alongside and behind the Black Lives Matters movement, and to persevere in ensuring justice for all.